The production of Baseball Cards started in the United States, as the sport gained popularity in other countries, there was a rise in demand for these cards. In Japan the first sets of these cards appeared as early as 1898, in Cuba in 1909 and in Canada in 1912. In the following article, we are going to discuss the 10 Most Expensive Rookie Baseball Cards of all time, a history of these cards, and why these Baseball cards hold so much value among the collectors.
Baseball cards have a long history that goes all the way back to the beginnings of the sport professionally, in post-Civil War America along with the rise of Major League Baseball. In another way we can see their success by looking at the emotional value they hold among the fans of the game. 
However, the value of these cards isn't only limited to being a piece of history or something to which your father or his father had an emotional attachment. That's right, we are talking about how these simple trading cards have evolved to be something that holds an immense investment or monetary value among collectors and true fans of the game. 
Do you know of any card that had been given to your dad by his dad? Who knows that it can be your key to being a millionaire overnight. 
Let us now take a look at the 10 most expensive rookie baseball cards. 
But first let us tell you what exactly a Rookie Card is. 
A Rookie Baseball Card
In very simple terms a Rookie baseball card is a Trading card that is the first to feature an athlete after they have participated in the highest level of competition within their sport. Usually, these Rookie Cards are of much more value than an ordinary trading card featuring the same player as they are historically rarer and hence, harder to come by in top or good conditions than those cards that have been issued in the later stages of the career of the player or athlete. 
Let us now begin with our list of the 10 most expensive baseball trading cards to be ever sold.
1. Mickey Mantle, 1952 Topps #311
$24,731 – $15.71 Million
It is said that no athlete in history has more individually-significant cards than Mantle. Also, the most important Mantle card is the most important Baseball card in the whole industry. 
There are only 3 PSA 10s and these are estimated to be anywhere between $15,000,000 and $30,000,000. 
2. Hank Aaron, 1954 Topps #128
Value; $1,800 – $7.09 Million
Hank Aaron or as many know him by his nickname "Hammer", an American Baseball Legend, was a right fielder and played 23 seasons. He is still second in terms of the number of home runs scored by an individual player in the MLB. He has won 1 World Series and made a record 24 All-Star  appearances.
There are just 2 PSA 10 copies of his Rookie card in existence.
3. Babe Ruth 1914 Baltimore News 
Value; $600,000 – $5.9 million
Again on our list, we have another Rookie card of the legend known as Babe Ruth. 
It is said that before Mickey Mantle and Hank Aron, there was Babe Ruth who in a career that spanned around 22 seasons had 714 Home Runs and was a 7-time World Series Champion. 
The "Prospects" card of Ruth from 1914 features the Legend during his time in the Minor leagues. The Baltimore News card depicts him as a member of the Baltimore Orioles. 
4. Mike Trout 2009, Bowman Draft Picks and Prospects #BDPP80 1/1
Superfractors $5.56 Million
Mike Trout is the first modern player on this list, he has played 11 seasons so far in the MLB, and while he hasn't yet won a world series there is data to support him being the best player in history. 
Trout is 9 times MLB all-star and he has won the American league MVP 3 times, finishing 2nd four times in other seasons. 
The card was last sold for $3.84 million. However, the current value of the card is $5.56 million. 
5. Babe Ruth 1933 Goudey #53 
Value; $5,075 – $4.22 Million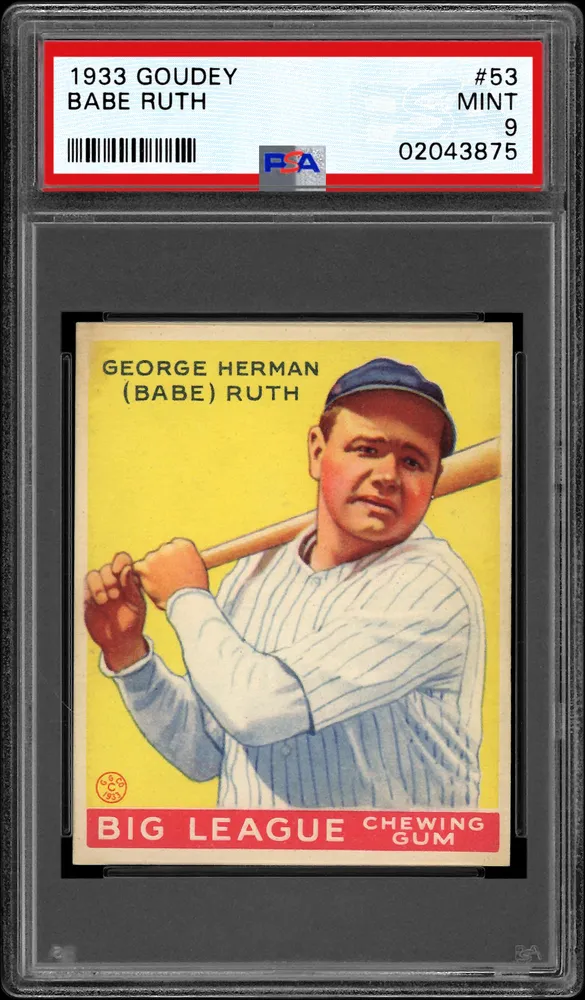 This 1933 Goudey Babe Ruth is popularly known as his professional rookie card. This is His second card on this list. 
6. Jackie Robinson, 1948 Leaf #79
Value; $6,886 – $2.98 Million
The first African American to play in Major League Baseball, winning the National League's Rookie of the Year in the year 1947 and the MVP in the national league. Jackie Robinson also had won 1 world series and was inducted into the Hall of Fame in 1962. 
There are not many copies of this card in a PSA 10 grade. There are 7 copies in a PSA 9, and 40 copies in a PSA 8. 
7. Babe Ruth, 1933 Goudey Action #144 
Value; $6,978 – $2.71 Million
George Herman "Babe" Ruth Jr. was an American baseball legend whose career spanned 22 seasons in Major League Baseball.
Popularly recognized as Ruth's official Rookie card, the 1933 Goudey set originally contains four Ruth cards. Some of them are rarer and more valued and desirable than others.
8. Roberto Clemente, 1955 Topps
Value: $478,000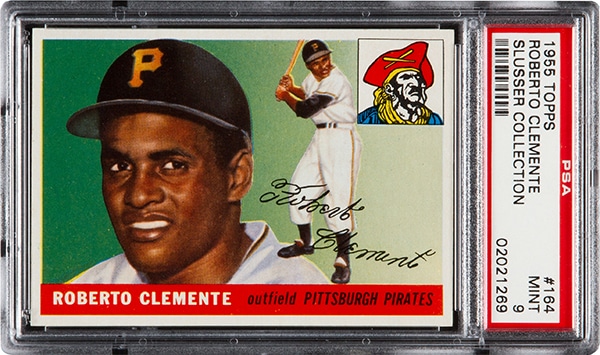 The first one on our list of the most expensive cards is 1955, Topps Roberto Clemente, which had sold for 478,000 USD in the year 2016.
Roberto Clemente was considered to be a legend in the sport. He was a member of the Baseball Hall of Fame and also the 3000 Hit Club. He passed away tragically in a plane crash in the year 1972 while on his way to help the earthquake-ridden victims of Nicaragua.
9. Willie Mays, 1952 Topps
Value; $478,000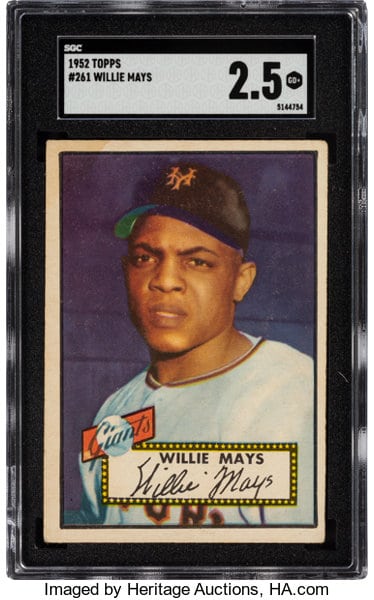 Willie Mays is considered to be one of the best players of all time in Baseball, an icon, and an inspiration to many top players even now. Therefore, it is not surprising at all to have his 1952 Topps Card being sold for a huge sum of $478,000 at an auction in the year 2016. 
The card was a part of a three-day sports auction which was held by a prominent auction house known as the Heritage Auctions.
10. Nolan Rayn and Jerry Koosman, 1968 Topps #177
Value; $400 – $1.34 Million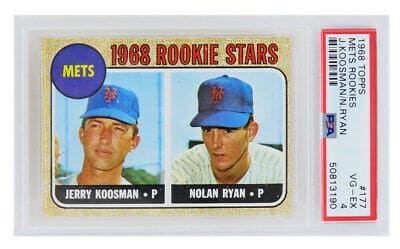 Nolan Rayn is a legendary pitcher who holds the record of time most strikeouts in a career along with the record of most no-hitters pitched and most wins as a pitcher. He had thrown balls as fast as 100MPH. 
Being a Hall of Famer he has a career that people like to recall. Also, there's just a single copy of this 1968 Topps rookie in a PSA 10 grade. 
Conclusion
So these were our picks on the 10 Most Expensive Rookie Baseball Cards. Don't forget to check that old trunk in your attic that belonged to your Grandpa. Who knows, maybe your million dollars are laying right there. 
Also Checkout: 10 Most Expensive Yugioh Cards of All Time