Piano lessons were seen as more of a natural extension of a child's education if they came from a well-bred household. They were culturally and intellectually sophisticated. The connotations associated with the possession of this classical instrument continue to be privileged situations. In this article we are going to discuss some of the most expensive pianos in the world. 
There's no denying that, given the history of piano ownership, a high-end piano is unquestionably a premium collectable. Customization is a popular trend in the ultra-luxury market. People want made-to-measure personalization in everything from vehicles and aircraft to hi-tech devices and house couture fragrances. It's only logical that such a significant purchase as a grand piano would be treated with the same level of client participation and commitment. 
Passion for luxury pianos is fueled by the desire to not only have a beautiful sounding instrument, but also to create a unique statement with the grand piano's style and finish. We have compiled a list of 10 most expensive pianos in the world below. 
Check out our list of the 10 most expensive pianos in the world:
1. Crystal Piano, Heintzman – $3.22 million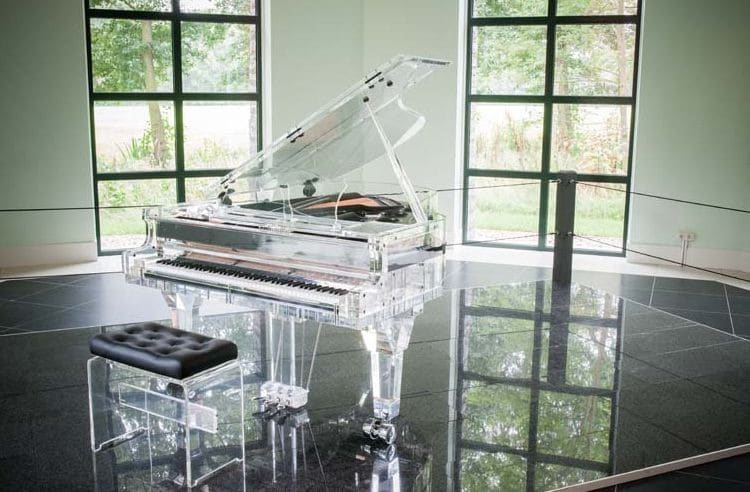 Anything with the word "crystal" in the title is certain to be pricey! The piano is truly a work of art, and the price tag that comes with it just adds to the value of this magnificent musical instrument. The piano was retired after the performance, but it was eventually auctioned off to an unidentified buyer for an astounding $3.22 million USD.
It is developed specifically for performances in huge concert halls, implying a vast concert theatre. Because of its fragility, it was only performed once before being relocated.
2. Steinway & Sons Pictures – $2.5 million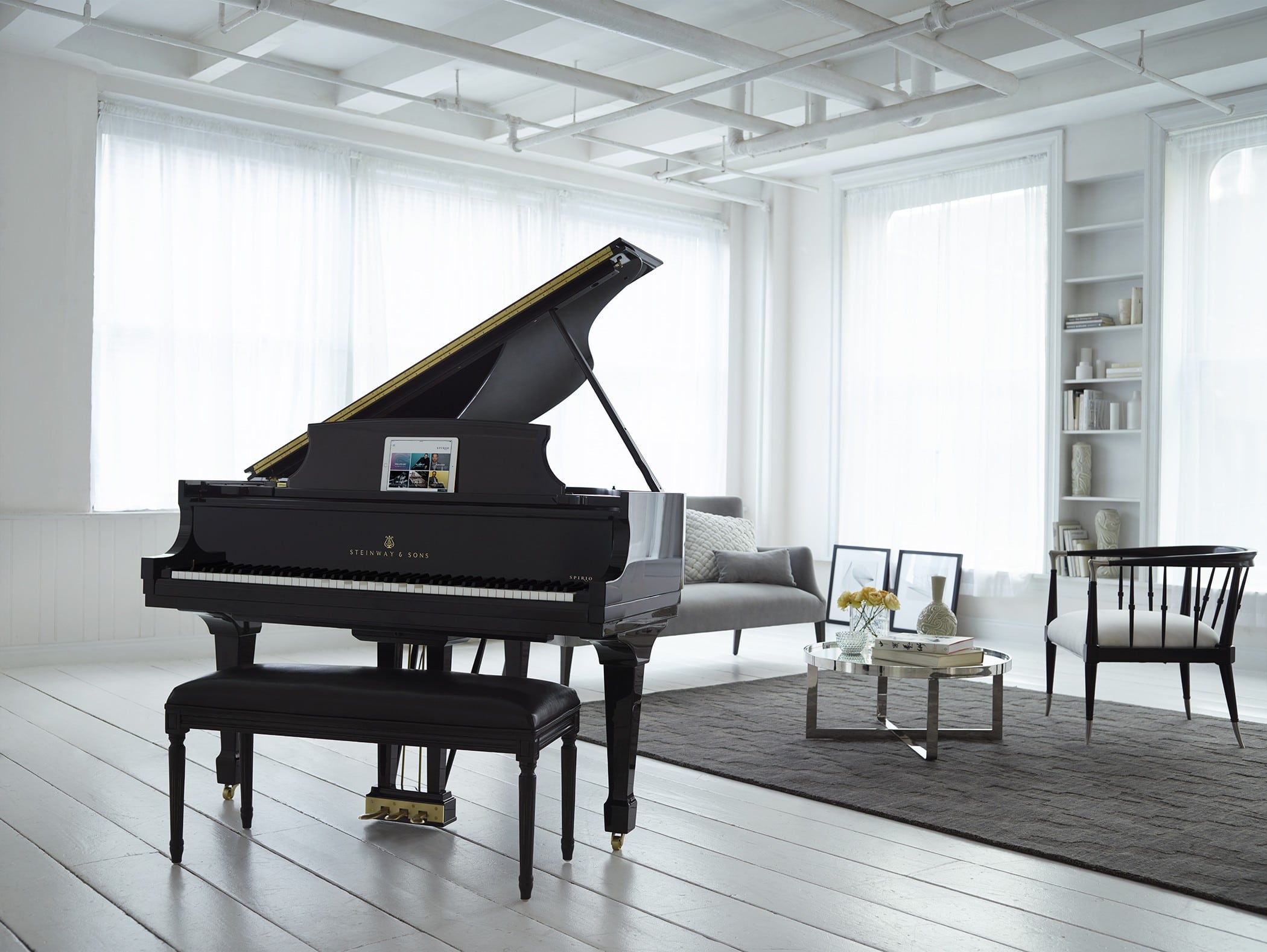 One of the most costly piano on the market right now is a Steinway painted by artist Paul Wyse. The artwork's $2.5 million price tag, while high, is visible in the lavish details. The piano's name is a reference to Russian composer Modest Mussorgsky's famous work Pictures at an Exhibition, which reflects the visitor's experience of moving from one image to the next. 
This masterwork piano displays all of the images from the music as well as the composer himself, Modest Mussorgsky.
3. Steinway & Sons Fibonacci – $2.5 million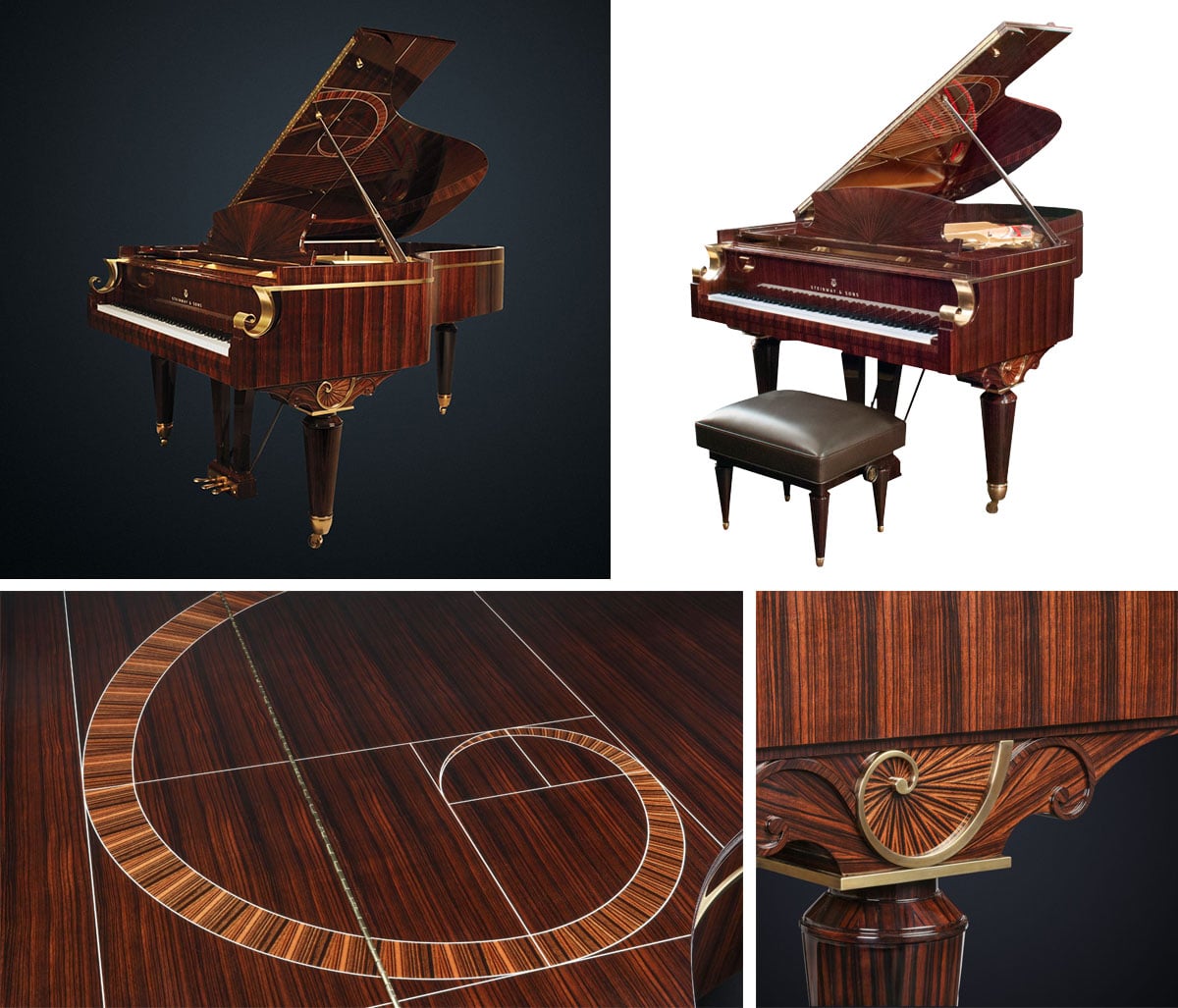 The Steinway Sons have provided us with the ultimate visual and mental feast. The Fibonacci Series — Renaissance's holy proportion ratio – was materialized in this grand piano by the New York-based piano behemoth. This luxurious limited edition Steinway model was developed by Franck Pollaro. This is one of the most costly and beautiful instruments created by leading piano companies, costing over two million dollars. 
It follows Fibonacci's spiral as it is applied to Nautilus, which expands without changing shape all over the grand piano's body. To produce the outside veneer, the case is inlaid with rare woods intarsia cut and put by hand.
4. The Kuhn Bosendorfer Grand Piano – $1.2 million
When it comes to extravagance, consider this piano, which is encrusted with diamonds and gems. John Kuhn, a glass artist, and L. Bosendorfer Klaviefabrik, a piano builder, collaborated on it. It is made of hand-cut glass and includes around one million gems. It's one-of-a-kind because of its shiny surface studded with glittering diamonds. By using jewels, the artisans hoped to appeal to ladies. 
This piano is valued at 1.2 million dollars (1.06 million EUR). A limited edition 7'4″ black stone (available in 2009) took more than a year to create and required roughly 100,000 pieces of Kuhn's hand-cut lead jewelry. This" section of his "bright spot" profession taught him a lot." Working with Burson Dover and such a grand piano was a dream come true.
5. C. Bechstein Sphinx – $1.2 million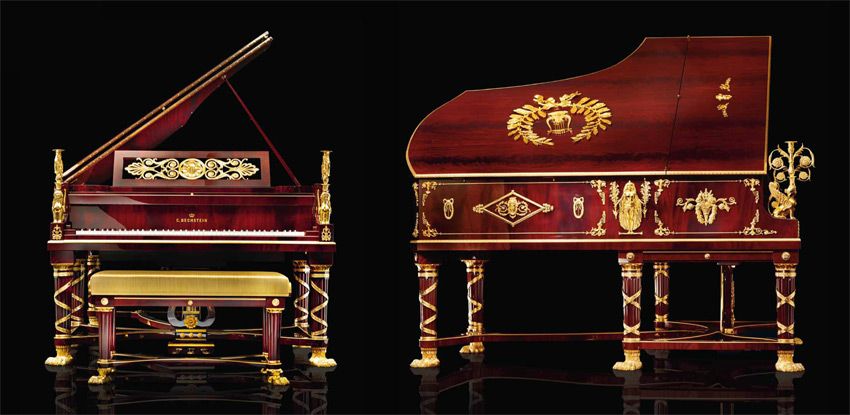 This high-octane marvel is a historical duplicate of Bechstein's first such piano, made for a special presentation in London in 1886. This Napoleon Bonaparte Empire style grand piano will astonish anybody who sees it, thanks to over 1800 hours of artisanal effort and 32 months of construction time. It blends Greek, Egyptian, and Roman elements in the key Napoleonic Empire style, with fire-gilded figures.
This remarkable piano will set you back $1.2 million, which is justified by the quality and uniqueness of this grand piano, which is almost half the price of a Steinway.
6. Blüthner Lucid EXO – $960,000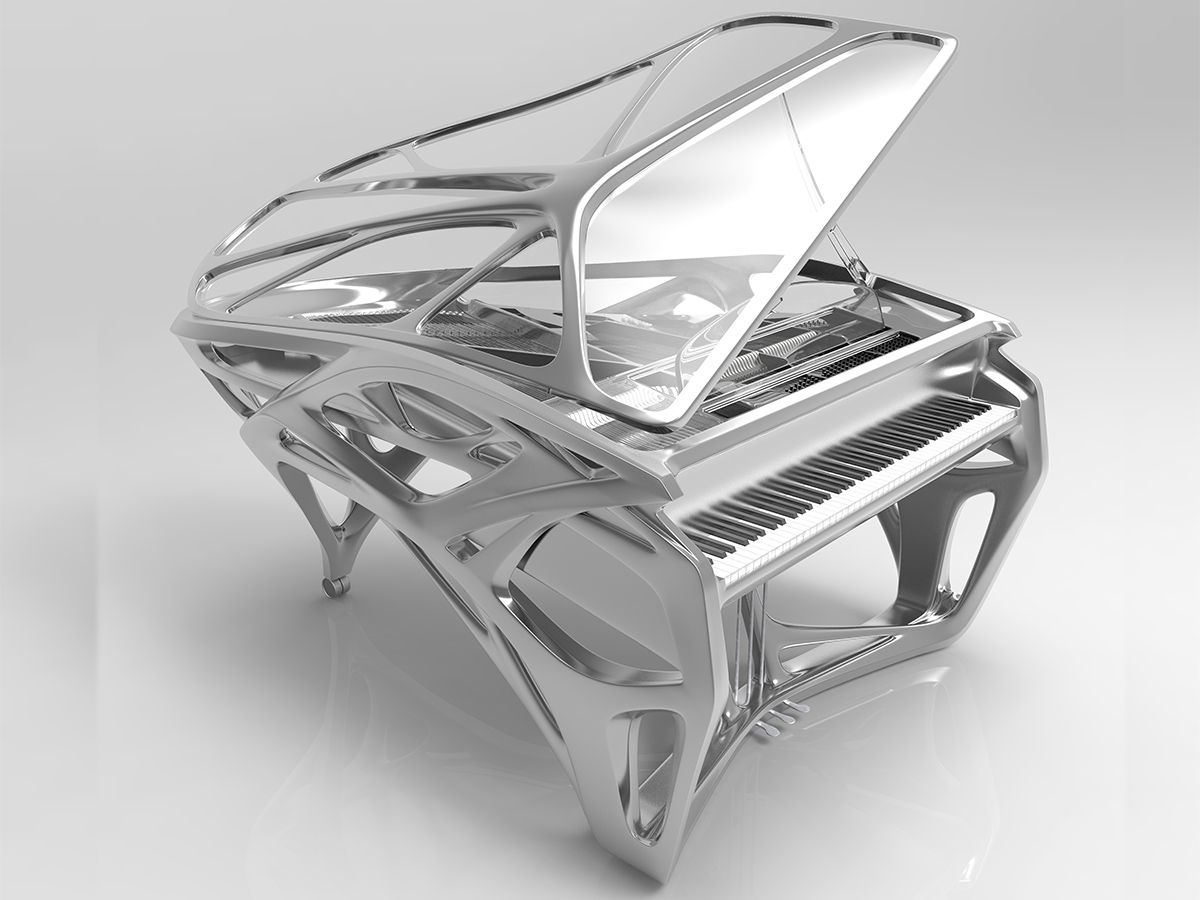 The Lucid EXO is a complete departure from the preceding two examples of luxury pianos. Forget everything you thought you knew about luxury pianos because what you're about to witness is from the future. It's just that it's now. The Lucid EXO is an evolved product of Blüthner's patented 3D printing capacity and carbon fibre Lucid EXO is an evolutionary result of world's top luxury piano legacy manufacturer's know-how. 
Years of research and development preceded the creation of EXO, allowing the design and manufacture of this future luxury piano to be informed and enabled.
While it does not cost the same as Bechstein's $1.2 million or Steinway & Sons' Fibonacci masterpiece, this piano is one among the top ten most costly pianos in the world today.
7. Bösendorfer Opus 50 – $750,000
The renowned Opus 50 semi-concert grand piano has been made by one of the world's oldest piano manufacturers. It was created to mark the brand's 185th anniversary and is the 50,000th piano the company has ever produced. The 225 model has French burlwood, maple, pear, and walnut veneers on the base. 
Many design features are hand-applied 24K gold lief, culminating in two female caryatids at the front. This magnificent luxury piano, designed in the neoclassical style, is very majestic and graceful. It costs around $750,000.
8. Fazioli M Liminal by NYT Line – $695,000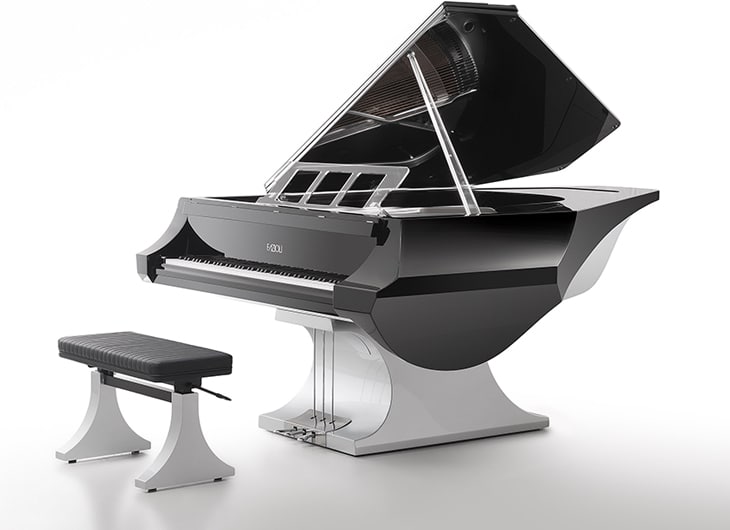 This luxurious post-modern piano is a dream come true. Literally. The form of the luxury boat for which the original was commissioned, as well as the dolphins, inspired its design. The piano's utterly distinctive and identifiable design is so wonderfully proportioned that it appears to levitate while it stands on its pedestal. 
The piano hauntingly resembles a romantic sailboat with the sail up, and its rather trapezoidal lid opened. The bottom and pedestal are finished in chrome, and the angularity of the body reflects light as if it were floating in the lazurite seas of the French Riviera.
9. Marilyn Monroe's Baby Grand Piano – $662,500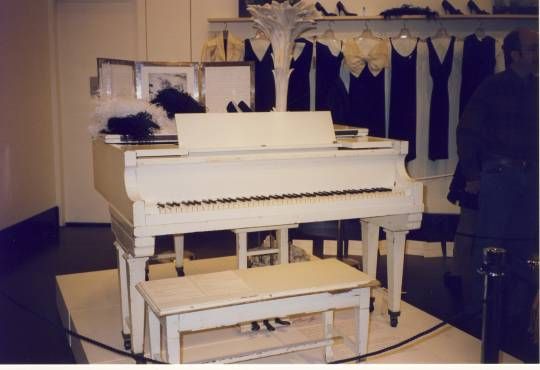 The mere mention of Marilyn Monroe is enough to make this piano pricey and distinctive. Gladys, Marilyn's mother, was the owner of this piano. However, it was sold to someone else shortly after she died. Marilyn was so moved by the piano that she sought out the owner and took possession of her mother's prized possession. 
Unfortunately, once Marilyn died, this piano was given to Mariah Carey, another well-known figure. She paid 662,500 dollars for it.
10. The Casablanca Piano, Richardson's Inc. – $602,500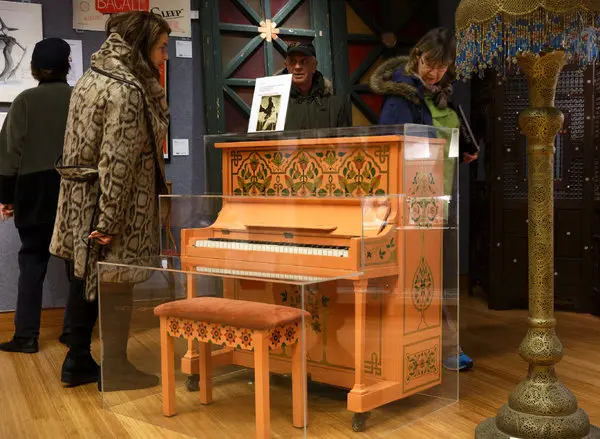 Casablanca conjures us images of the iconic and cherished film. This piano was created by Richardson Inc., and it holds a lot of sentimental meaning for Casablanca aficionados. 
A fading yellow-green piano occurs in one of the most renowned Hollywood characters, Humphrey Bogart and Ingrid Bergman Milieu: through time, in the celebrated film "Casablanca." Its hue, on the other hand, has been highlighted. Nonetheless, it is valued at 602,500 USD.
For generations, a piano has been a symbol of wealth. When people abstained from buying it during a given timeframe, there was a drop. The above list shows how luxurious a piano can get. Some of the most expensive pianos in the world are mentioned above.
Also Checkout: 10 Most Expensive House Decors To Make Your Living Amazing And Colourful