Rolex is the world's most well-known and beloved horology house. In the Western world, owning a Rolex is the ultimate display of wealth. But how much money are these watches really worth? It's time to learn about the 12 most costly Rolex watches ever, from their origins to their monikers. In this post,  we have compiled a list of the most expensive Rolex watches of all time. 
Have you ever wanted to know what the most costly watches are? When it comes to the most expensive watches in the world, Rolex is undoubtedly one of the first names that comes to mind. Watch collectors are prepared to spend a million dollars merely to obtain old Rolex watches.
This luxury watch brand has become one of the best-selling and most valuable investments. And it has always been linked with riches, luxury, and elegance over the years.
1. Paul Newman's Rolex Daytona – $17.8 Million
It made history in 2017 when it reached a price of $17.8 million. Phillips Auction House auctioned it off, and it quickly became the most expensive Rolex watch ever auctioned off in history.
This watch, named after the famous actor Paul Newman, became popular due to its interesting narrative. This watch was not only seen in Newman's renowned photos and films, but it was also presented to him by his wife, with the words "Drive Carefully Me" etched on the back of the case.
This rare and valuable Rolex watch has amazing characteristics. Among these are three sub-dials with block markers, as well as a seconds sub-dial at 9 o'clock marked with 15, 30, 45, and 60 as indicators. 
2. Rolex "The Unicorn" Oyster Cosmograph – $5.9 Million
In 2018, it was sold for $5.9 million. The first time this watch was shown in public was in 2013, at John Goldberger's world-class collection. This watch was never intended to be sold at the time since Goldberger deemed it irreplaceable. Only afterwards, when he realised that the sale of this watch may help others, did Goldberger decide to auction it off. Goldberger gave the whole selling revenues to Children Action, an organisation that helps hundreds of children and teenagers across the world. Almost all Rolex Cosmograph watches have been made in stainless steel or yellow gold over the years. There are just a few exceptions to this rule, and "The Unicorn" is one of them.
3. Rolex Bao Dai – $5.1 Million
It is (also known as "Keeper of Greatness") sold for $5.1 million at Phillips Auction House in 2017. This watch was initially held by Vietnam's last Emperor, Nguyen Phuc Vnh Thy, who requested the rarest and most valuable Rolex watch ever created in 1952. The Bao Dai was provided to him on a chance trip in Geneva when he stumbled into Chronomètrie Philippe Beguin, a prominent Rolex vendor.
The Nguyen family auctioned off the watch, which was still in outstanding condition, in 2002. This watch was originally sold for $235,000, but the final offer was over 22 times its starting price. The original Rolex 6062 series was available in three variants, each with a distinctive dial. 
4. 1942 Rolex Antimagnetique – $2.5 Million
It is another pricey antique watch that sold for $2.5 million five years ago at the Phillips Auction house in Geneva, Switzerland. Surprisingly, it was initially auctioned at Christie's in 2013 for $1.16 million. The auction history of this watch demonstrates how it, like other Rolex watches, has only gained in value enormously through time, regardless of the initial date of production.
This Antimagnetique watch was initially given to various drivers and racing teams to commemorate their victories. Rolex was notably involved in the motor racing scene at the time, sponsoring a number of races. Sir Malcolm Campbell, a well-known British racing driver, even wore a Rolex watch during one of his races.
5. Marlon Brando's Rolex GMT- Master – $1.92 Million
The Rolex GMT-Master Ref. 1675 was sold in 2019 at a Phillips Game Changers event for $1.92 million. It was named after Academy Award winner Marlon Brando, who wore it in the movie Apocalypse Now. It is a Rolex clock from 1972 with an engraved "M. Brando" that is alleged to have been inscribed by the actor himself.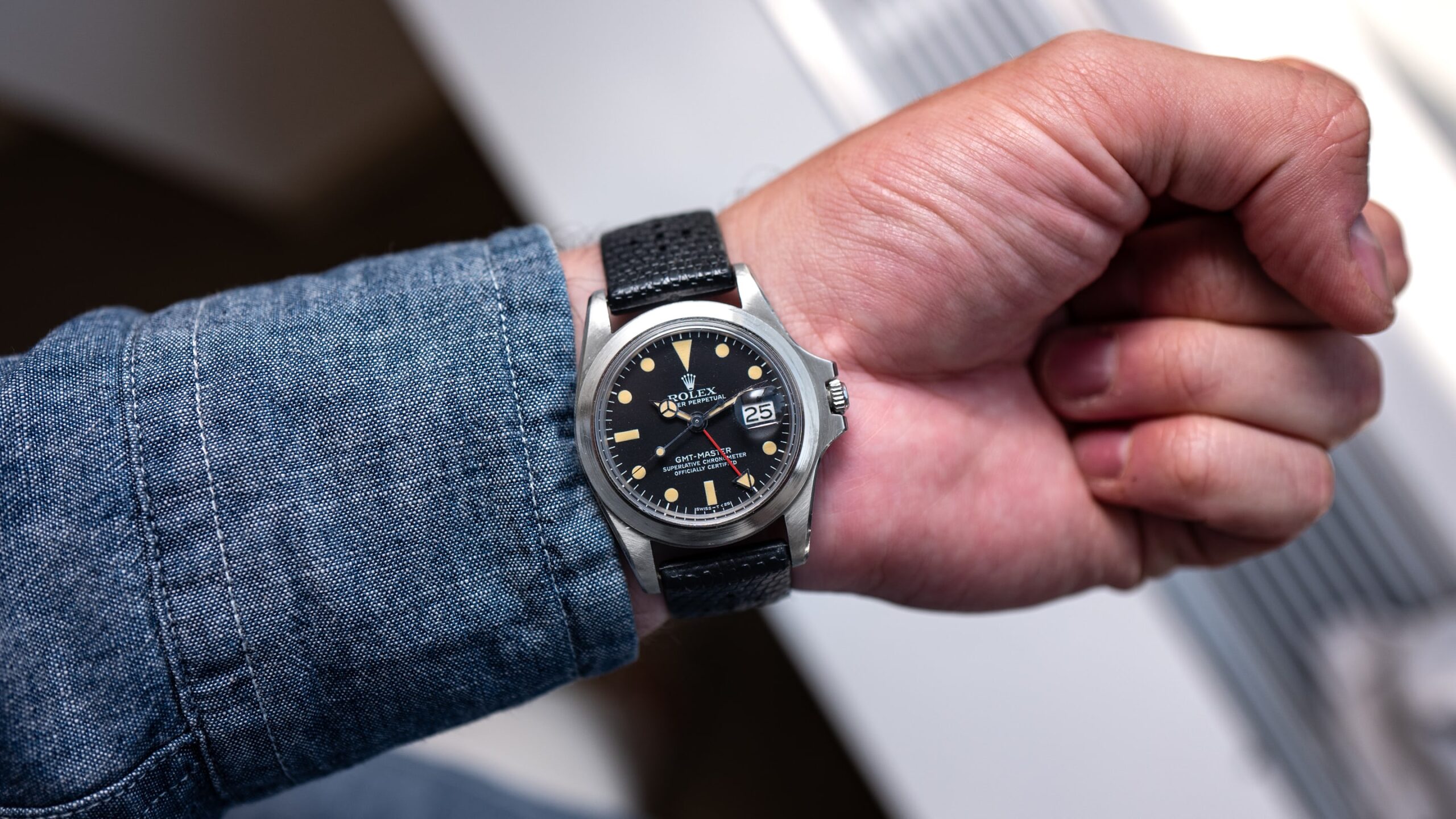 Marlon Brando was supposedly requested to remove the bezel during the filming of Apocalypse Now in the Philippines in order to make this watch stand out from the crowd. The watch was eventually given to his daughter, Petra Brando Fischer, as a graduation present, along with a message expressing the actor's joy in his daughter.
6. Eric Clapton's Cosmograph Daytona – $1.4 Million
Another antique watch that sold for more than a million dollars was this 1971 Rolex Oyster 6263 Albino. It was auctioned off in Geneva for $1.4 million at a Phillips auction. It was initially acquired for $505,000 in 2003 in New York, which is less than half of its current worth.
This high-end Rolex watch is named after Sir Eric Patrick Clapton, a well-known English musician and singer-songwriter. This watch is among the world's rarest and most famously owned timepieces. Among the four known existing white-dialled Cosmographs, this is the only one with non-black auxiliary dials. It has white printing but the same silver finish as the original.
7. 1967 Jack Nicklaus Rolex Day Date – $1.220 Million
When it was auctioned off at the Phillips Auction House in 2019, this Jack Nicklaus Rolex Ref. 1803 was valued at $1.220 million. This Rolex watch with a gold case was auctioned off to help the Nicklaus Children's Health Care Foundation. 100% of the revenues were donated to children's charities throughout the world.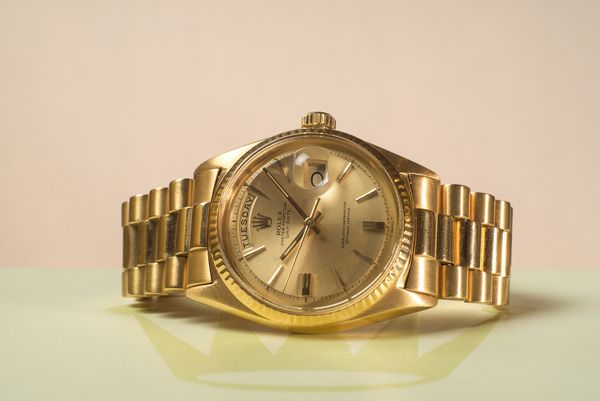 For 50 years, golf great Jack Nicklaus wore this as the first watch he had bought. When he won his second US Open with a record-breaking score, he was given this pricey Rolex watch. Nicklaus is a well-known professional golfer who has won 117 PGA Tour events and 18 Major Championships throughout his career.
8. Rolex Stelline Gold – $895,000
In 2015, the Rolex "Stelline" Gold Ref. 6062 was sold for $895,000. The Stelline, with its cool debonair elegance, was also the fourth most expensive watch sold at Christie's in Geneva in 2012. This model, which included a Jubilee bracelet and an in-house automatic movement, was introduced in 1950.
With an Oyster shell with a triple calendar and a moon phase display contained in a water-resistant case, this pricey watch retains the Rolex genetic codes. This was the first automatic watch ever built with these features.
The materials used to make this item are stainless steel and yellow gold. Rolex deemed this watch to be a top-of-the-line wristwatch because of its then-groundbreaking innovative features, sharp polish, and sumptuous style. It was dubbed "Stelline" by watch collectors after an Italian word.
9. Rolex GMT Master II Ice – $485,350
Cristiano Ronaldo, a well-known football player, wore the Rolex GMT Master II Ice . During the 14th Dubai International Sports Conference, he was seen wearing this. This Rolex watch is the most costly that the company has launched in recent years. When it was initially introduced in 2007, it had a retail price of $485,350. This clock perfectly exemplifies what luxury in the twenty-first century should look like.
This watch's glittering silver and diamond-encrusted exterior has earned it the moniker "Master Ice" among watch lovers. The Master Ice is dripping in 30 carats of beautifully cut diamonds. This watch has beautiful stones on every inch of it, making it aesthetically attractive and a real head-turner.
10. Dr. Rajendra Rolex – $440,000
This antique Rolex watch is one of the most magnificent pieces ever created and is currently valued at $440,000. It was created for Dr. Rajendra Prasad, India's first President. It is thought to have been given to him on the country's first republic day in 1950. This Rolex Oyster Perpetual watch is one of the first few Rolex watches to be constructed with 18k gold rather than stainless steel.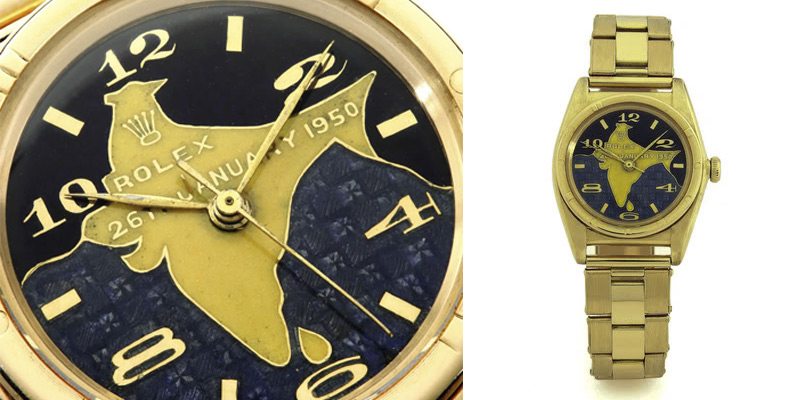 The map of India with the date 26 January 1950 inscribed on the dial is one of the watch's distinguishing features. Furthermore, the engraving depicts India linking to Afghanistan and Nepal, with the dial coloured in underlying black, blue, and yellow tones. The big gold numerals complement the overall traditional appearance.
Also Checkout: 10 Most Expensive Desserts in the World