Everyone enjoys finishing their dinner with a delicious dessert. Ancient civilizations enjoyed dessert by rolling nuts or fruit in candied honey. Sugar production began in the Middle Ages, but only the affluent could indulge in sweet treats because sugar was rather expensive at the time. In this article, here are the 10 most expensive desserts in the World.
Let's have a look at the history of some popular desserts: Vanilla is derived from an orchid bloom and was popularised by Mexican locals. Chocolate was found in Central America and Mexico by European explorers, and it was originally drunk as a fiery drink. Apple pie has been around since 1381 and was popular among early American colonists.
Desserts also aid in weight reduction by satisfying cravings and satisfying your sweet taste. Furthermore, they are an excellent opportunity to add extra fruit in your diet. Add blueberries and raspberries to frozen yoghurt for a delectable treat that is high in healthy fats and protein. Finally, sweets are beneficial to dieters who limit their sugar and carbohydrate intake. 
This can cause distraction, mental fog, and sluggishness. Consume moderate portions of chocolate pudding or jello for dessert to receive the glucose you need for energy. In short, desserts may make you not only happy but also healthier. 
Let's have a look at the 10 Most Expensive Desserts in the World- 
1. Diamond Fruitcake –  $1.72 Million
Because of the 223 diamonds embedded in the cake, the unique cake prepared for Takashimaya Department Store in Tokyo is worth $1.72 million. The diamonds total 170 carats in weight, making this the most costly fruitcake in the world.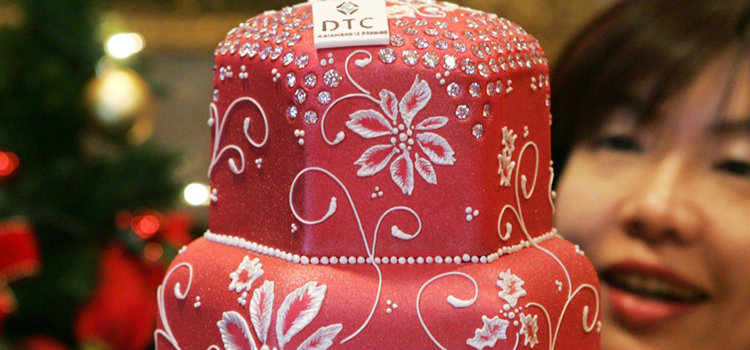 It took six months to design and one month to make the Diamond Fruitcake. The cake is edible, however the chef has indicated that the diamonds are not.
2. Faberge Chocolate Pudding – $34,440
Marc Guibert, the head chef of Lindeth Howe Country House Hotel in Windermere, Cumbria, created this majestic dessert. It is made up of four of Belgium's best chocolates that have been flavoured with orange, whiskey, and peach.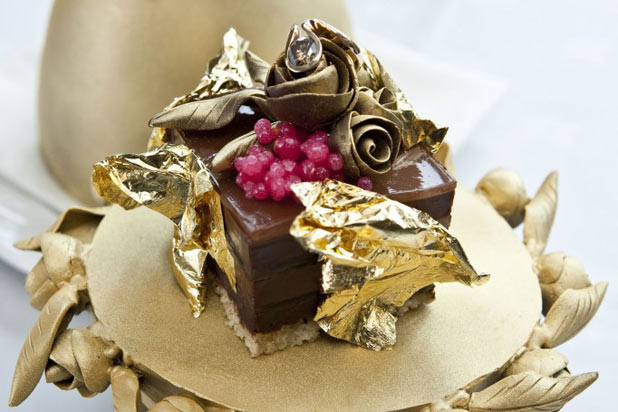 It is composed of champagne caviar, gold, and a two-carat diamond and costs $34,440, breaking the Guinness World Record for the most expensive chocolate pudding in the world.
3. Frrrozen Haute Chocolate – $25,000 
The Frrrozen Haute Chocolate has chocolate ice cream made from 28 cocoas, 14 of which are the most costly, covered with edible gold, and served in a glass with extra edible gold lining on the bottom. 
On top of it, there is an 18-carat gold bracelet with 1 carat of diamonds inlaid in it.
4. The Fortress Stilt Fisherman Indulgence – $14,500 
It's called a 'gold leaf Italian cassata,' although it's also recognised as a typical circular sponge cake. This exquisite Sri Lankan cake is flavoured with Irish cream that has been infused with fruit. 
The pomegranate and mango compote, as well as a Dom Perignon champagne sabayon, form the foundation of this meal. It is made by hand with chocolate carvings of Stilt fisherman and is topped with an 80-carat Aquamarine stone.
5. Krispy Kreme's Luxe Doughnut – $1,682 
Krispy Kreme introduced the "most costly" doughnut in the world in 2014. Among other things, it is decorated with 24-carat gold leaf. The doughnut is also topped with a gilded white chocolate lotus studded with edible diamonds and filled with Dom Perignon champagne jelly.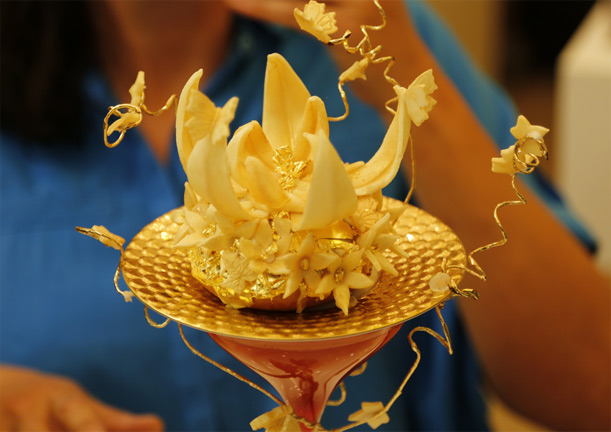 The doughnut was served with a drink that included raspberry and passion fruit syrup, Courvoisier Cognac, and additional Dom Perignon 2002, according to Maxim. The firm created the fashionable fancy doughnut to collect funds for The Children's Trust.
6. The Bear Extraordinaire – $1,500 
The most expensive ice creams always appear to be vanilla-flavoured. This recipe calls for Madagascar vanilla beans, which are imported from Madagascar. The ice cream, created by pastry chef Rosario Wakabayashi, is encased in a chocolate shell that has been decorated with cocoa butter. 
The chocolate-covered ice cream is served atop a bed of black truffle crumble, which combines black truffle with high-end 64 percent Manjari dark chocolate and Valrhona Gold cocoa nibs. The hibiscus champagne sauce and citrus meringue lend a sumptuous touch. Even the ornamental components, such as fondant butterflies, spun sugar, and gold and silver leafing, come together to make this dish one-of-a-kind.
7. 24- Carat popsicle – $1,500
It's a Popsicle with 24 carats. It's the ideal approach to remain cool. Keep your bikini physique in check while still getting a buzz. This $1,000 treat is offered by the The Marquis Los Cabos resort in Mexico and is made with gold flakes and local tequila that sells for $1,500 a bottle. So, when compared to the price of the bottle, this Popsicle is a deal.
8. Golden Opulence Sundae – $1000
For its 50th anniversary, New York City's Serendipity 3 restaurant created this masterpiece. This delicacy outperforms all other ice creams in flavour and was also the most costly sundae after its debut, since it was listed in the Guinness Book of World Records for its $1000 price tag, making it the most expensive sundae after its debut. Despite its expensive price, the restaurant receives around one order from rich guests every month.
You must provide a 48-hour notice so that the restaurant can get the various ingredients from around the world. Grand Passion Caviar, chocolate truffles, and Tahitian vanilla bean ice cream sprinkled in 23-carat edible gold leaf are among the components. Gold flakes and gilded sugar are then sprinkled on top of the dish.
9. Beyond Gourmet Jelly Beans – $500
David Klein, best known for his iconic Jelly Belly jelly beans, created this delicacy. This item's unique characteristic is that it has a natural taste because it contains no artificial colours or tastes. There are a dozen varieties to choose from, but the packaging is the key reason for the $500 price tag.
The chocolates are presented in a stunning crystal container, and each bean is covered with 24-carat gold leaf. If you simply want to taste the excellent beans without spending $500 on the unique packaging, you may get a lesser box that lacks the expensive crystal or gold and so retails for an economical $16.
10. La Madeleine au Truffle – $250
Knipschildt Chocolatier in Norwalk, Connecticut, makes La Madeline au Truffle, which tops our list of most costly desserts. A single truffle will set you back $250, while a pound would set you back $2600. This mouthwatering meal is delicious because it contains vanilla, truffle oil, sugar, heavy cream, and 70% Valrhona dark chocolate.
Start the dessert with a rare French Perigord truffle surrounded by a thick ganache. The packaging enhances your dining experience since the restaurant has prepared an amazing golden box for the truffle. You will not be able to stroll into this restaurant and consume this food.
Also Checkout: Top 10 Most Expensive Cars in the World