The world's most expensive chocolates range from 100lb chocolate eggs to crystal studded pieces. The phrases "rich" and "decadent" are suitable when discussing some of the world's greatest chocolate — and not simply in terms of flavour. While a $1 chocolate bar from the grocery store can undoubtedly satisfy, nothing compares to the absolute crème de la crème discovered when there is no price restriction. In this article, we present you with the list of Most Expensive  Chocolates in the World.
Here are the 9 Most Expensive Chocolates-
1. Frozen Haute Chocolate
Price-$25,000
This $25,000 chocolate sundae produced to advertise the New York eatery Serendipity 3 is another of history's most costly chocolates. It also set a Guinness World Record for Most Expensive Dessert along the way.
It is served in a gold cup lined with white diamonds and contains a 28-cocoa blend with five ounces of edible 23-karat gold.Is it possible to call Serendipity 3 and get a Frrrozen Haute Chocolate? Probably not, given the advertisements were discontinued years ago, but it remains a legend in the world of pricey chocolate.
2. Golden Speckled Chocolate Egg
Price-$11,107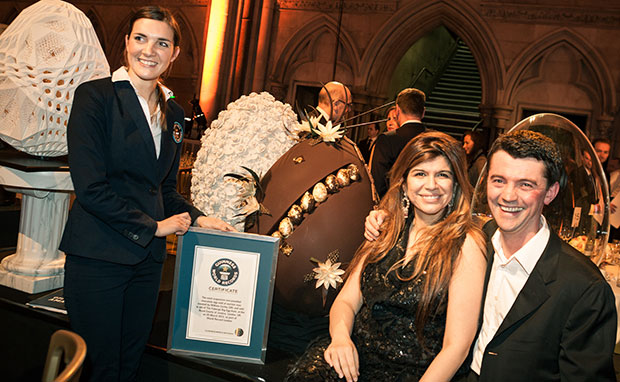 This egg was named the "most costly non-jeweled chocolate egg" by Guinness World Records, illustrating that there is a category for everything. The Golden Speckled Egg, which sold at auction for $11,107, weighs just over 100 pounds and measures three feet tall and two inches broad.
It was developed by seven chocolatiers from the United Kingdom and Japan. Amedei chocolate, edible gold leaf, and a couture chocolate filling were employed. It was also adorned with 12 chocolate mini-eggs, 20 chocolate bars, and five white chocolate flowers. Unfortunately, because the auction took place in 2012, this egg is no longer available for purchase. However, there is some good news. The auction revenues were completely donated to charity.
3. Cadbury Wispa Gold Chocolate Bar
Price-$1600
Cadbury, the famous chocolate brand, decided to reintroduce the Wispa Gold Bar in 1995. They produced a special Wispa Gold Bar worth $1,600 to help market the occasion. It was produced with high-quality Madagascan cocoa beans and was coated in edible gold leaf.
The one-of-a-kind treat was auctioned off, but the lucky bidder never came forward to collect their reward, so the bar was returned to Cadbury. Today, it's on display in their Cadbury World chocolate-themed museum, and cheaper copies of the bar can be found in retail outlets all over the world.
4. Swarovski Studded Chocolates
Price-$10,000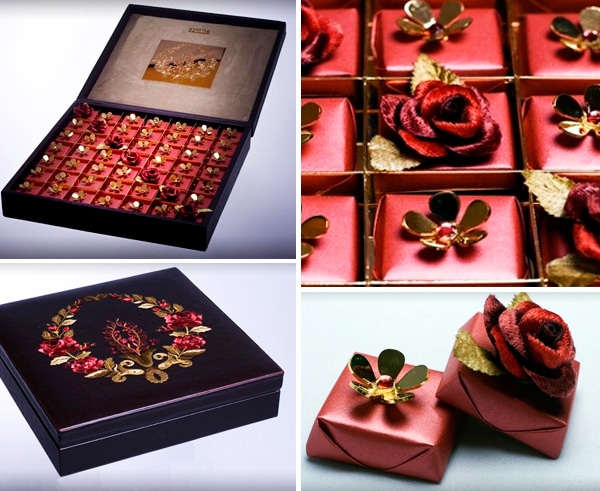 Patchi, a Lebanese chocolatier, and Harrods, a department store behemoth, collaborated in 2010 to develop these Swarovski Studded Chocolates. Each of the 49 dark chocolate pieces is studded with Swarovski crystals and adorned with gold and silk rose. After that, they are wrapped in Indian silk and placed in a leather box.
The $10,000 chocolate box is no longer for sale, but Patchi, a world-renowned chocolate boutique, is still open for business. They provide a vast selection of chocolate delights, including the option to create your own chocolate box for roughly $150.
5. DeLafée Gold Chocolate Box with Antique Swiss Gold Coin
Price-$517
These DeLafée pralines take the concept of rich-tasting chocolate to a whole new level by highlighting it with actual, edible 24-karat gold. Even more opulent, the box of eight chocolate-and-gold pralines includes a genuine, non-edible Swiss gold coin dating from 1910 to 1920.
Even the creator confesses that gold has no flavour, but it does provide a warm light to the dark chocolate. It's a visual and gastronomical delight.
6. Art Series Guayasamin by To'ak
Price-$450
Ecuadorian confectioners To'ak prefers that their premium Art Series Blend be referred to as the "most valuable" rather than the "most costly" chocolate – although at $450 for 50 grams, both phrases seem to apply!
This chocolate isn't going to be ready in an hour. The unique cacao beans are matured in a French oak cognac cabinet for three years. Ecuadorian dark chocolate with 77 percent cacao beans is the ultimate result. The chocolate takes up to six weeks to arrive after ordering, but a mix like this is worth the wait.
7. Vosges Haut Chocolat Champagne and Exotic Truffles Collection
Price-$325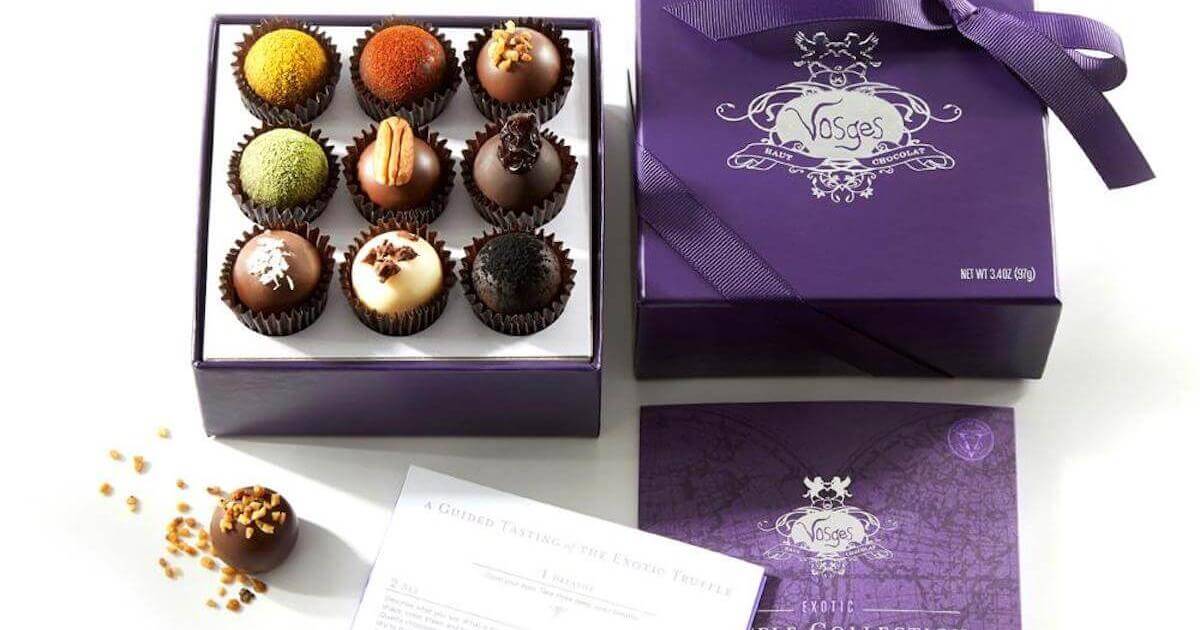 Chef Katrina Markoff's Chicago chocolate store, Vosges Haut Chocolat, is known for its imaginative innovation. Katrina uses odd ingredients like wasabi, bacon, cinnamon, chilies, and more!
This premium gift box, which includes their distinctive Exotic Truffle assortment as well as a bottle of Krug Champagne, is one of the shop's most expensive selections. They come in a gorgeous purple box and are the ideal way to commemorate a special occasion.
8. Gallais Le Livre and Debauve
Price-$283 
Debauva and Gallais, a prominent French chocolate producer founded in 1800, set out to create a masterpiece to commemorate their 200th year in business. Le Livre is the end product, a box of 35 handcrafted pralines and ganaches with cocoa percentages ranging from 95% to 100%.
Enjoy a taste of history as well. Sulpice Debauve founded his chocolate store at Marie Antoinette's suggestion. For many years, he was the royal family's exclusive chocolate supplier.
9. Ganache Cien Blue Box by MarieBelle New York
Price: $280 
Maribel Lieberman, the world's most famous chocolatier, creates her world-famous New York Holiday Chocolate Ganaches from her New York store. Open the trademark blue box and untie the cocoa-colored ribbon to uncover 100 handmade ganaches.
Every part of the chocolate box is a piece of beauty in and of itself. The Honduran-born chocolatier feels that most people haven't had the opportunity to sample authentic chocolate, and she wants to change that. Whoopi Goldberg, Jennifer Lopez, and even Oprah Winfrey are among her numerous followers.
Conclusion-:
Irrespective of how the chocolate is packaged and marketed, the process of making these confections requires decades of culinary history. Although they are pricey, the ultimate chocolate joy is within everyone's reach if the desire is strong enough. Chocolate is more than just a delicious treat. Chocolate becomes a work of beauty in the hands of a professional chocolatier. Some of the Most Expensive Chocolates are mentioned above.
Also Checkout: 10 Most Expensive Desserts in the World