Good food is always worth it no matter the price but how much? Well, these delicacies will only make you wonder about the existence of such rare, royal and expensive dishes. As the ingredients include high-quality meat to fresh seafood from deep in the oceans and so comes with a sky-high invoice.  In this post, we present you with the list of the most expensive dishes in the world.
We have all the luxurious options of luxurious clothes, cars, and homes, but what about something as common as food which we take every day in & out? The elites of restaurants of the world and their chefs have plenty of options on their menu to bring huge numbers on your restaurant bills. It feels very fictional to ask "if they serve gold and diamonds?" Well, yes they do it most possibly. The pleasure of good taste is indeed incomparable to anything worldly and here are the dishes that can do so in the most luxurious way.  
Here are the Most Expensive Dishes in the World-
1. Chocolate Pudding at Lindeth Howe Country House Hotel – $35,000
The Chocolate Pudding by Chef Marc Guibert is the world's most expensive dessert worth 35 thousand dollars. Back in 2011, in search of making the world's most elite dessert, the chef of Lindeth Howe Country Hotel in England's Lake District created this royal Chocolate Pudding. 
The pudding is made with rare high-quality chocolates with caviar, champagne, and gold leaf embedded with a diamond. The pudding resembles the Faberge egg in shape and is layered with champagne jelly with edible gold decorations. As rare as its ingredients, the pudding has been sold only once since 2011 and it needs to be ordered 2 weeks prior. 
2. Grand Velas Tacos – $25,000
Grand Velas Tacos aren't just another taco dish we see at the end of every street. It is made with Kobe Beef, Almas Beluga Caviar and Black Truffle Brie Cheese which makes it a very rare and expensive serving. 
The taco is served in a gold-flake infused tortilla. Along with the dish, an exotic salsa composed of dried Morita chili peppers, Ley.925 ultra-premium añejo tequila topped with civet coffee beans is served to justify the royal package this taco dish carries. Made by the chefs of New Grand Velas Los Cabos Resort's Frida restaurant in Mexico costing a bill of 25 thousand dollars. 
3. Fortress Stilt Fisherman Indulgence – $14,500
The Fortress Stilt Fisherman Indulgence is a very unique dish originating all the way from Sri Lanka. Specially offered in the Fortress Resort and Spa in Galle, the dish is only prepared on a special advance order of at least 24 hours. Not just the heavy price tag of $14,500 but the dish requires a prior special request to have you served on your table. The dish comes with an artistic touch as a still fisherman features on the plate handmade from chocolate.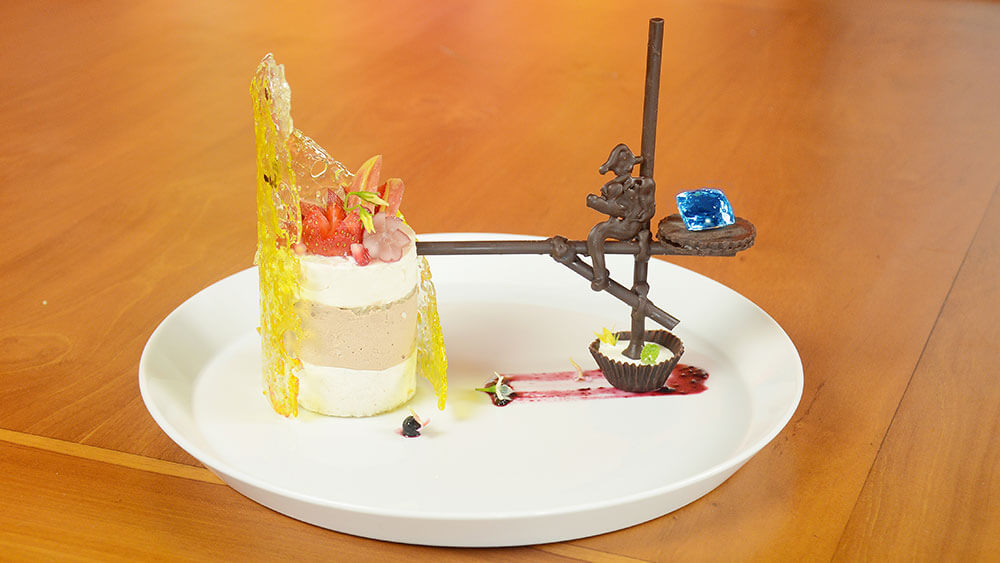 The dish is served with a mango and pomegranate compote on the base of an Italian cassata flavoured with Bailey's Irish Cream along with gold leaf decoration. Adding to its uniqueness, the dish also serves an 80-carat rare aquamarine stone that is placed on the fisherman's stilt. The dish is precisely handmade and costs as big as 14,500 dollars. 
4. Louis XIII Pizza – $12,000
Louis XIII is the most expensive pizza in the world created by Renato Viola. Initially, it was made exclusively for two people and measured around 20cm. The special recipe of this pizza contains a specially raised dough for as long as 72hours which needs to rest for a long time before going forward with the cooking processes. 
The ingredients are very unique and require three types of caviar – Oscietra Royal Prestige, Kaspia Oscietra Royal Classic all the way from the Iranian coast, and Kaspia Beluga. The toppings include a very expensive lobster specially shipped from Norway. As a pizza requires an ample amount of cheese, 7 different types of cheese are used to make this pizza. It is served in Salerona, Italy which is indeed very famous for its pizza and worth 12 thousand dollars. 
5. Beluga's Almas Caviar – $9,884
Beluga's Almas Caviar is a rare dish only served by a Beluga restaurant in Dubai. The restaurant is highly possessive with this dish considering the rare ingredients used to create it. 
The $9,884 huge price tag is for a 250 grams portion of Beluga's Almas Caviar. Being the rarest and the most expensive caviar in the world, Almas is known as the "Kings of Kings" in the caviar world. A 24-karat Golden Cigar is also served in complement with the dish which is worth $422. 
6. FleurBurger 5000 – $5000
FleurBurger 5000 is the most expensive burger in the world which costs $5000. Made with special Wagyu beef by Hubert Keller based in Las Vegas, the burger dish can bring new experiences to tastebuds. The ingredients along with Wagyu Meat includes the toppings of foie gras and truffles. 
The meat is packed between two pieces of a  freshly baked brioche bun. There is also some addition of prime foie gras and duck fat while baking the brioche bun. If you ever get to feast on this dish, you will get a bottle of 1995 Petrus complimentary. 
7. 24K Pizza – $2,700
Very evident with the name, 24K Pizza is a pizza topped with a layer of actual 24K gold. The golden pizza is served exclusively in the Industry Kitchen of New York, where the chefs bake gold in the oven.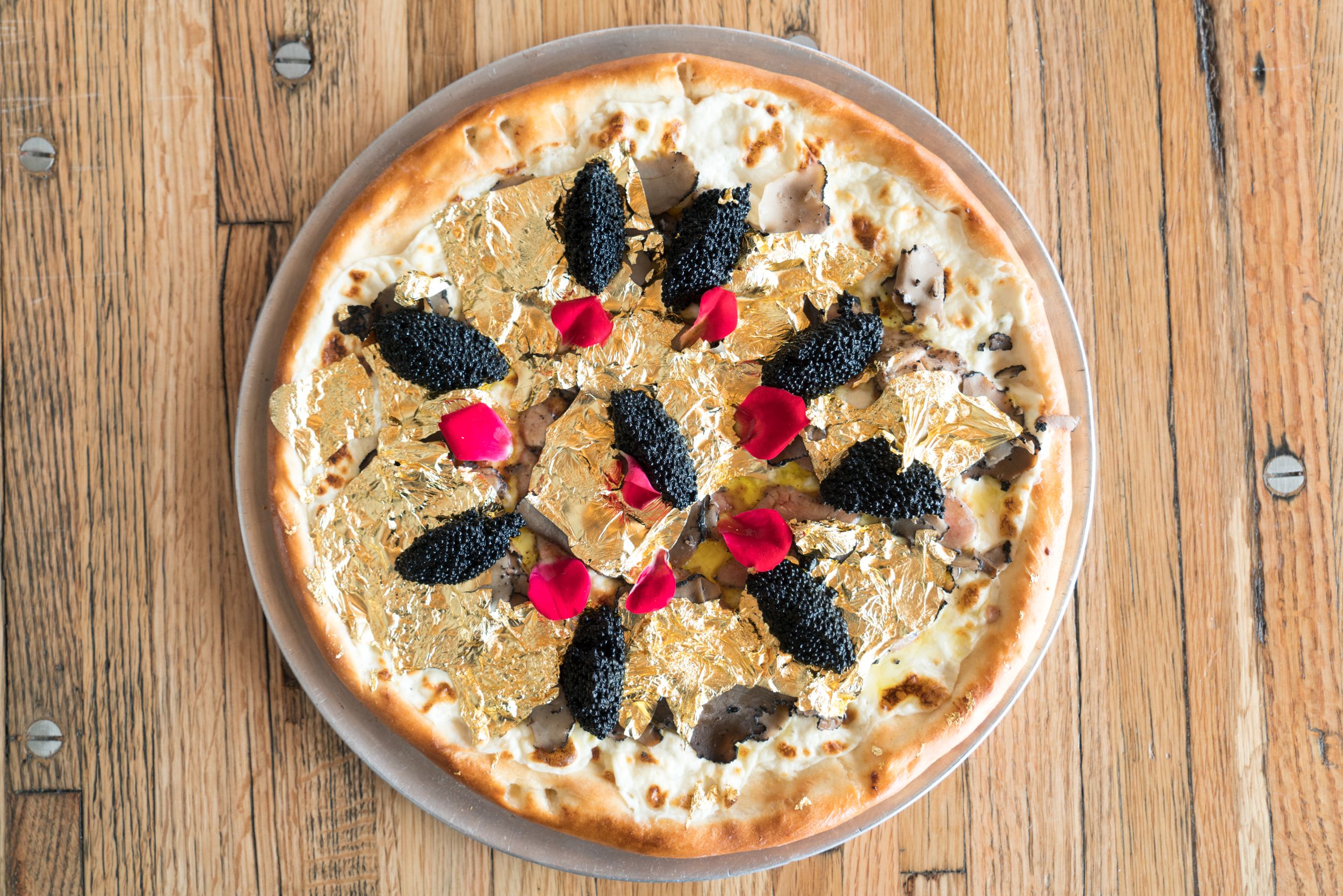 As the gold toppings are edible, the recipe also includes platinum Ossetra caviar, foie gras, truffles with imported white stilton cheese. A $2700 price on the menu for a pizza with gold? sounds worth it. 
8. Billion Dollar Popcorn – $2500
Billion Dollar Popcorn won't cost you a billion literally but $2500 is no less for a bucket of popcorn only until we get to learn about this elite kind of popcorn. Berco's popcorn comes in a 6.5-gallon tin and to its speciality, each of the popcorns is layered with caramel and 23-carat edible gold flake. 
Flavoured with Laeso Salt seasonings which are very rare to its kind. The better value of buying this bucket of popcorn comes later when you know that Berco's donate their profits from this dish to a food bank that feeds more than 200 people. 
9. White Truffle And Gold Pizza – $2,420
Another pizza in the list of most expensive dishes in the world as the White Truffle and Gold Pizza cost you no less than $2420. This dish used to be the most expensive pizza in the world for many years previously. 
Made with a thin-crust base, the special ingredients include buffalo mozzarella, white truffles, and  24-carat edible gold leaf as its topping. Available at Margo's Pizzeria in Valletta, Malta, the dish adds luxury to the already royal hierarchy of pizzas.
10. The Zillion Dollar Lobster Frittata – $2,000
This omelette dish called the Zillion Dollar Lobster Frittata is exclusively made at Norma's in Le Parker Meridien Hotel in Manhattan New York. Made with 10 ounces of Sevruga caviar, a lobster, six eggs, cream, chives and flavoured with lobster sauce, this dish is served on the top of a bed of Yukon gold potatoes. 
The Zillion Dollar Lobster Frittata is mentioned in the Guinness Book of World Records as the 'most expensive omelette in the world' as it is worth $2000.