Nothing in our evolutionary history has been more useful than writing. Drawing shapes on cave ceilings and walls was the first method of storing and conveying information, but as time passed and human memory grew insufficient to keep track of everything, writing became the most essential method of storing and communicating knowledge. In this post, we will look at some of the most expensive pens ever made. Check it out below
Pens may be stunning works of art in terms of design, functionality, and workmanship. They're also quite personal, and they may be ageless and traditional or modern and new. They are both functional and fashionable, so it's easy to understand how they might become sought-after – and expensive – things.
But how far will individuals go in order to get this experience? What are the most expensive pens that have ever been sold?
Take a look at the Top 10 Most Expensive Pens Ever Made:
1. TIBALDI- (Rs 54.69 Crores): Fulgor Nocturnus
The Fulgor Nocturnus was produced by Tibaldi, the most significant Italian fountain pen maker, and has a name that will amaze everyone. It was designed to follow Phi's divine proportions, such that when the pen is closed, the cap's ratio to the visible half of the barrel is 1:1.618.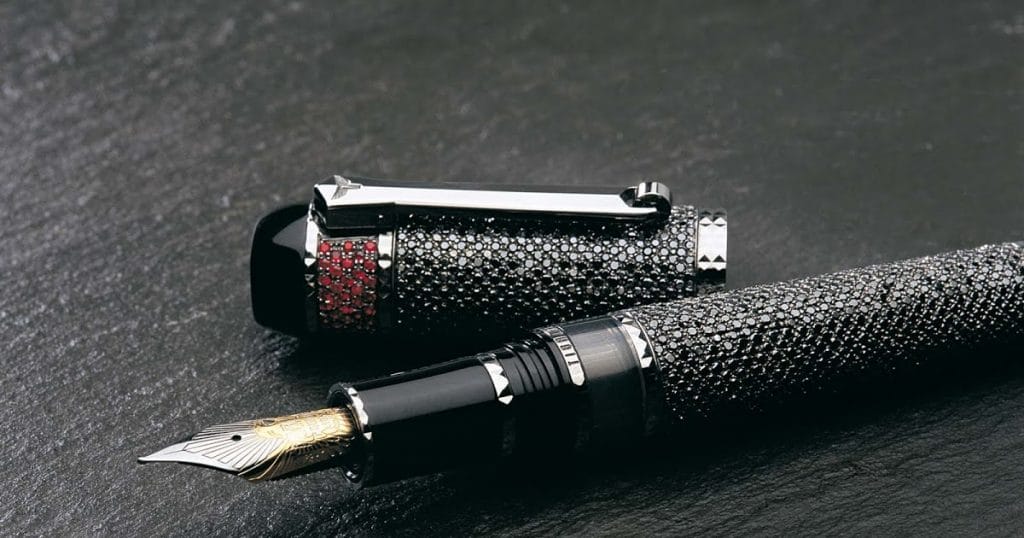 It's set with 945 black diamonds and 123 rubies, and it's one of a kind, making it even more valuable.
2. AURORA- (Rs 10.06 Crores): The Aurora Diamante
Aurora only produces one of these pens each year. The Diamante's solid platinum barrel is adorned with 30 carats of diamonds. It features an 18-carat gold nib and is capped with an even bigger diamond. A pen can be personalized with a family coat of arms, a signature, or a photograph for a discriminating buyer.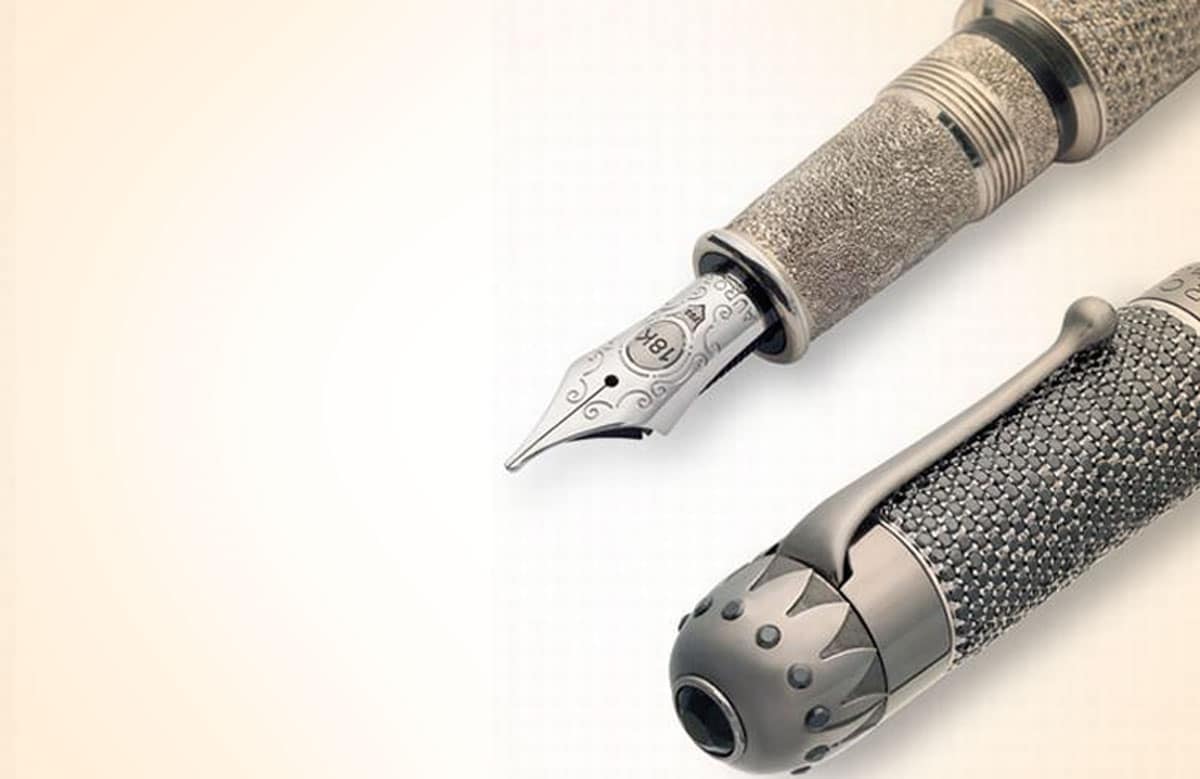 The Aurora Diamante fountain pen has no defined price, although the highest estimate is 10.06 Crore, making it the world's second most expensive pen.
3. MONTBLANC- (Rs 4.4 Crores): Mystery Masterpiece
The Limited Edition Mystery Masterpiece is the result of a cooperation between Montblanc and Van Cleef & Arpels, which resulted in one of the world's most prominent writing tools.
The three alternatives available to contrast with the pen's 840 diamonds studded in the white-gold body are sapphires, rubies, and emeralds. Only 9 of them were made to commemorate both firms' first century of producing high-end accessories.
4. CARAN D'ACHE- (Rs 1.1 Crores): La Modernista Diamonds Pen
The La Modernista Diamonds is a handcrafted pen that took months to perfect. The pen's nib is constructed of 18-carat gold that has been rhodium-coated.
This writing instrument's twenty carats are artistically embellished with a total of 5,072 precious stones. Another feature that added to its beauty is the inclusion of 96 rubies weighing a total of 32 carats.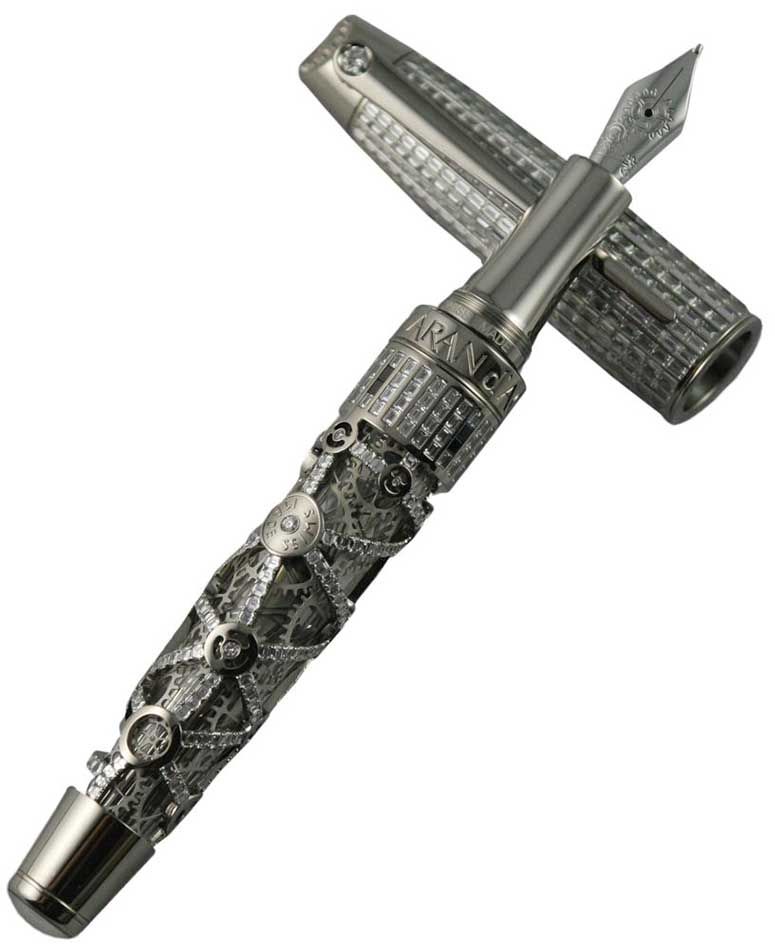 Caran d'Ache is a pen business established in Geneva, Switzerland. It is known for producing high-end writing tools that are both unique and exquisite.
5. MONTBLANC- (Rs 1.7 Crores): Prince Rainier III Limited Edition 81 Pen
Prince Rainier of Monaco met and married American actress Grace Kelley after falling in love with her. Following the demise of the revered king, Montblanc created a limited edition 81 fountain pen to honor Prince Rainier III.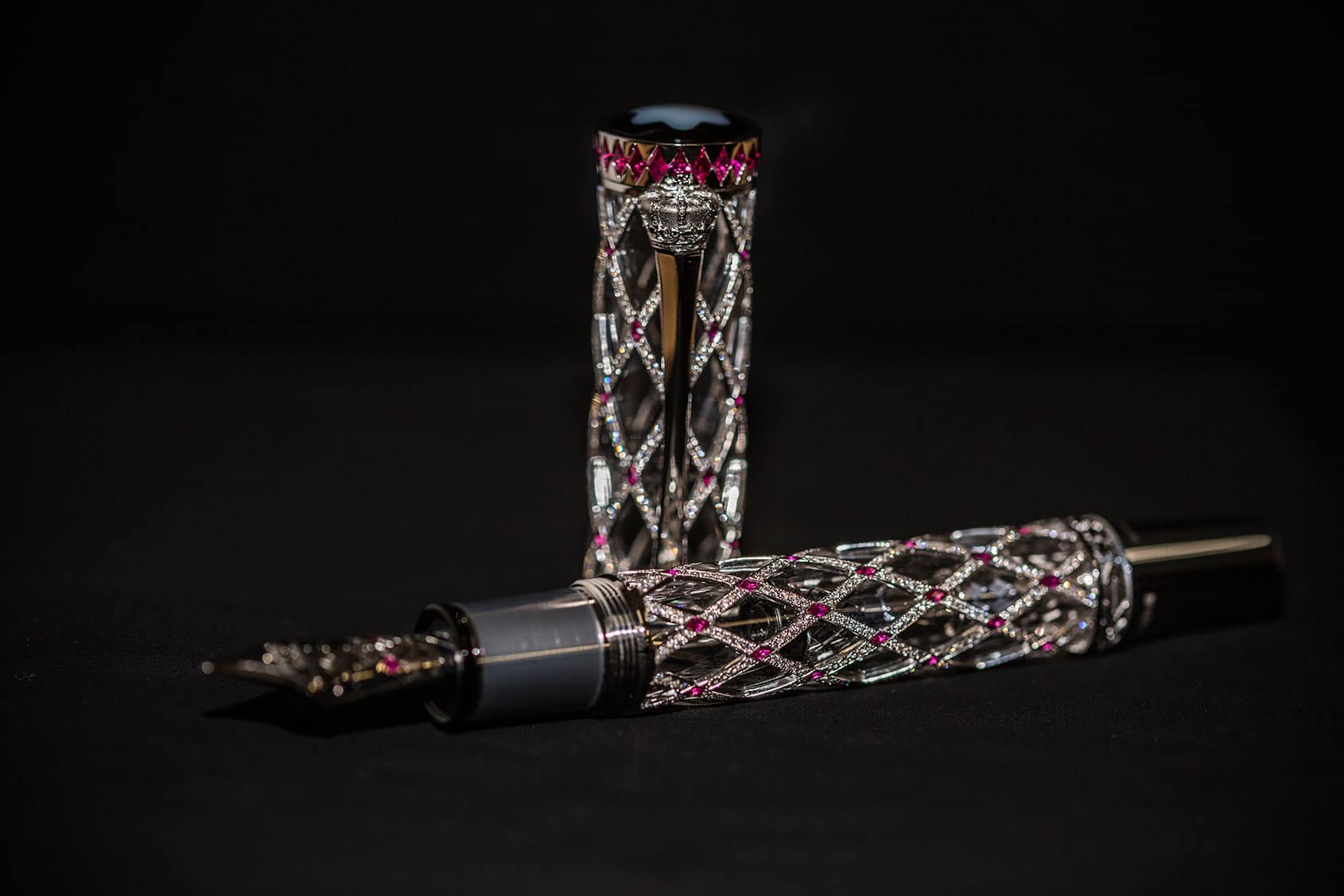 The pen's body is made out of 18k white gold. This pen's nib is 18k gold, and the clip ring is encrusted with a total of 19 rubies.
6. MONTBLANC- (Rs 1.5 Crores): Limited Edition Boheme Papillon Pen
It should come as no surprise that Montblanc appears twice on this list, much like Caran d'Ache. The Boheme Royal is a part of the Boheme line and is crafted of 18-carat white gold with approximately 1,400 high-quality diamonds. The stones have a little coloration that gives a distinct aspect to the pen's look but isn't noticeable until compared to a colorless diamond.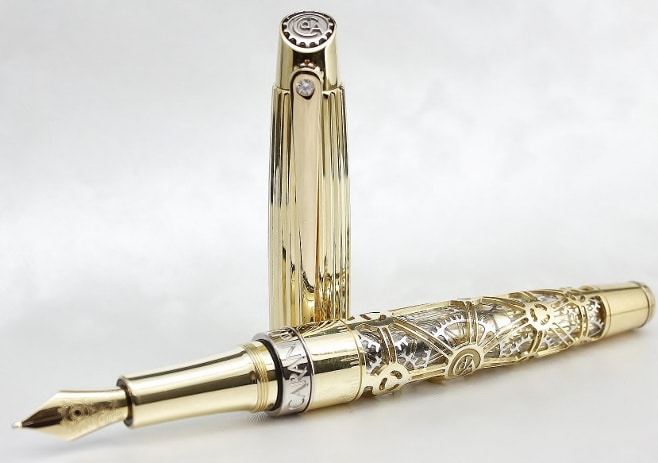 Even the Montblanc emblem, which is comprised of 18-carat white gold and 19 diamonds, has been given a stylish makeover. This is also one of the few fountain pens with a retractable nib in the world.
7. MONTBLANC- (Rs 1.1 Crores): Diamond Solitaire Pen
This traditional diamond pavé item is flawlessly set with 4,654 brilliant-cut diamonds, with 7 diamonds in the cap top picture. The 18 K yellow gold pin tip and cap are ringed by three 18 K gold bands, and the pin ring is stamped with a unique serial number (BI0324). A rhodium-plated bauble is used on a medium hand-made 18 K gold nib.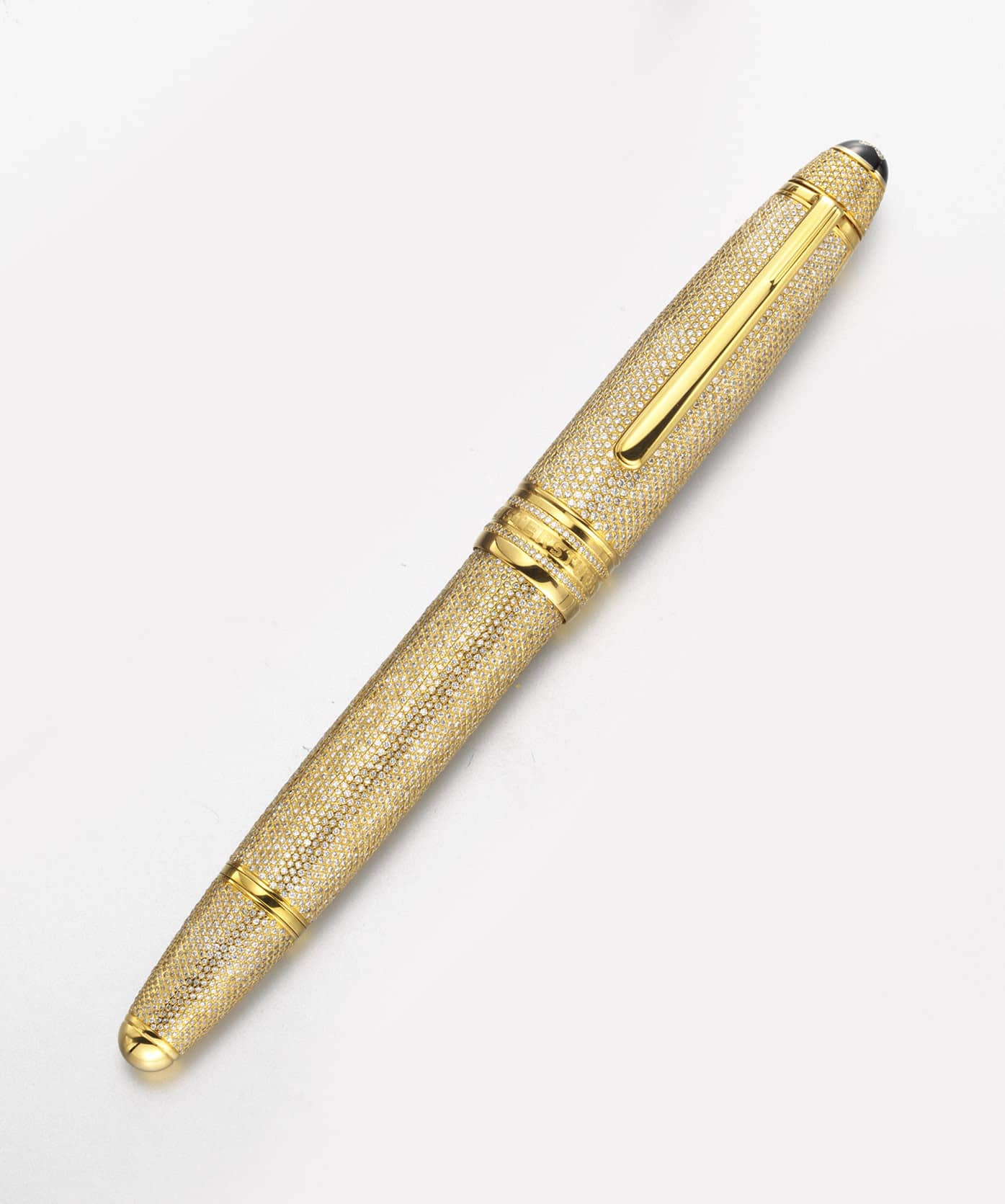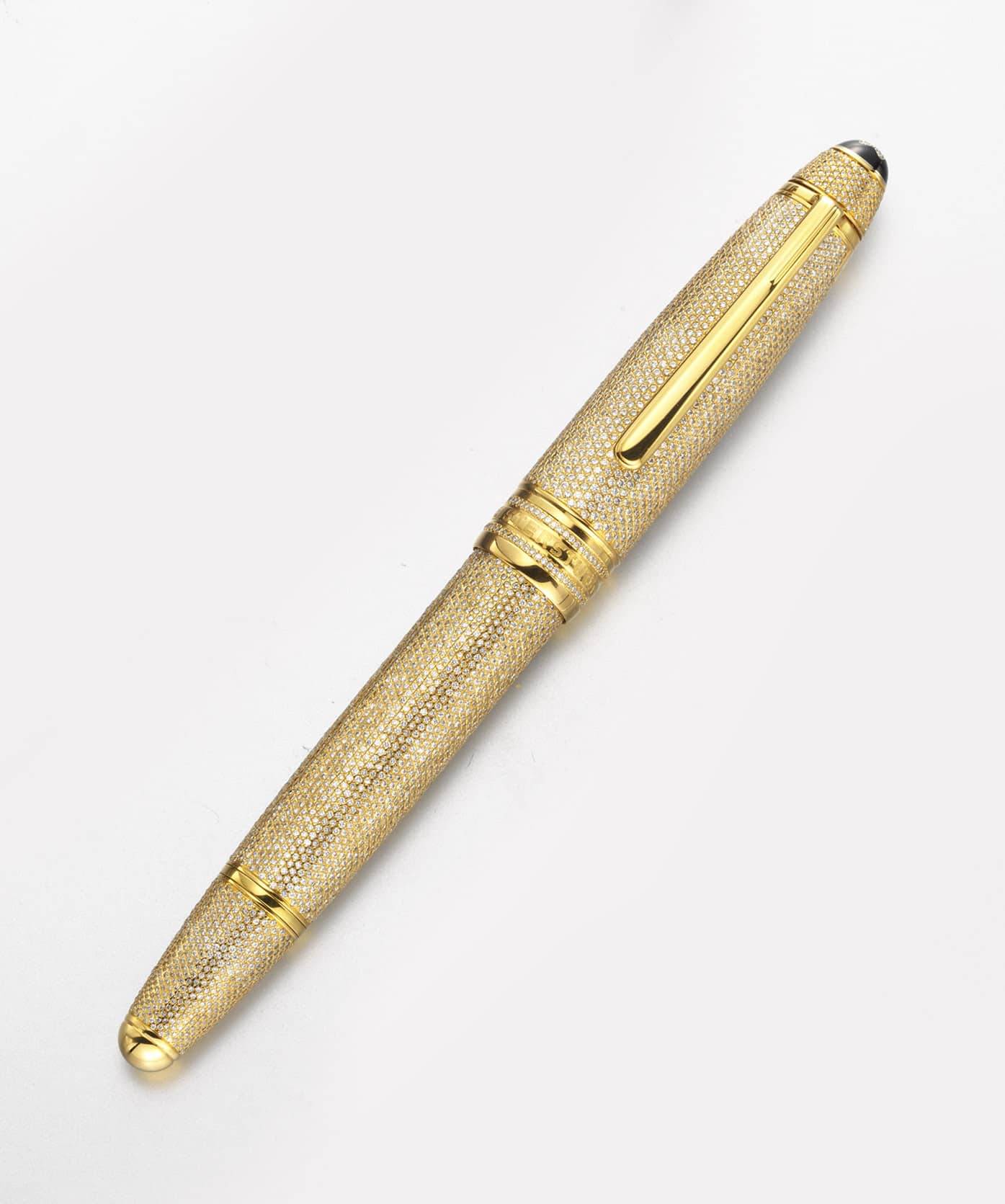 Creators are pleased to provide this amazing pen, which was intended to enhance the standards of individuals who prefer to preserve these expensive, remarkable, and extravagant pens to add more grace to their lives, in a lacquer Montblanc showcase box, without papers.
8. CARAN D'ACHE- (Rs 1.1 Crores)1010 Fountain Pen
The 1010 Limited Edition was designed by Geneva-based Maison Caran d'Ache to salute Swiss watchmaking culture. The term refers to the ideal balance of a watch's hands, which happens at 10 minutes past 10.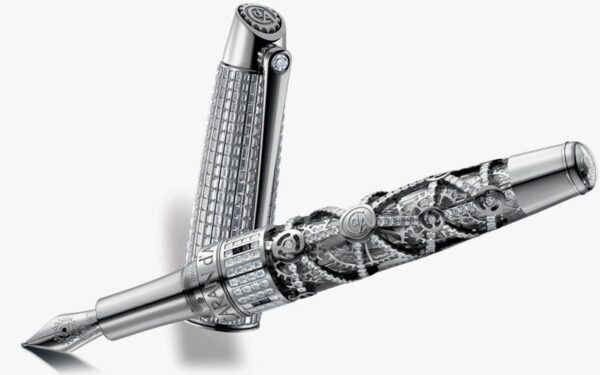 The pen is made of 18 karat gold and features an additional Top Wesselton VVS 0.11 carat diamond with 57 facets, as well as gorgeous gear wheels that were handcrafted and polished with great care and attention to detail. The nib is composed of 28-carat gold and is designed to look like a watch's complicated mechanics.
9. MONTBLANC- (Rs1 Crore): Boheme Royal Pen
Handwriting has become a "grandeur" for few in today's world, yet a superb and unique pen may energize even the most jaded of millennials. In the Top 10 Most Expensive Pens In The World, the Boheme Royal Pen is the most admired and expensive pen in the world, costing a crore to get. The 18K gold body of the Montblanc impression gem is adorned with 1430 diamonds.
The Montblanc brand's crown jewel is the Boheme Royal.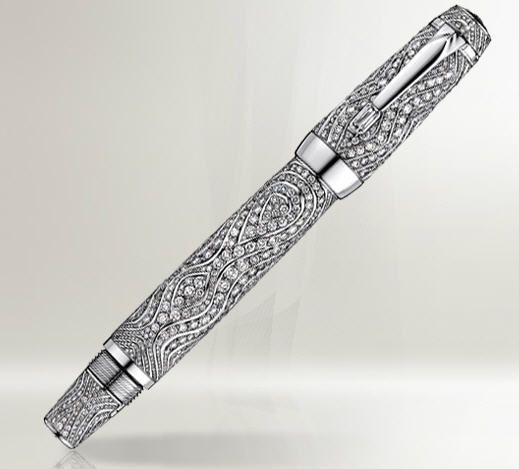 This is a lovely 18K white gold fountain pen with 1430 diamonds that comes in two distinct versions: white diamonds or white diamonds alternating with black diamonds.
10. MONTEGRAPPA- (Rs 97 Lakhs): Ancient Mexican Civilization
18k Rose Gold Medium Nib Fountain Pen. The valuable material of each writing instrument is offered in your option of all bronze or sterling silver with a rich backdrop of bronze transparent enamel, decorated with engravings of the Mayan gods and design features reflecting the people's distinctive architecture.
The pen clip is modeled after the Mayan priests' sacrificial sword. A piston filling mechanism is used to write with this fountain pen. To engage the piston, turn the blind cap and write with the magnificent 18k rose gold nib. This elegant Italian pen is crafted from 18kt Rose Gold.
Conclusion:
Forget about the complimentary pens you received in school. We've shown you some of the most costly pens in the world in this post. Throughout history, fancy pens have been prized as a status symbol. When we write with pens rather than our cellphones, we might receive a unique sense.
We hope you enjoyed our list of the 10 most expensive pens ever made!
Also Checkout: 10 Most Expensive Golf Courses in the World