You might be astonished to learn that beer is the world's oldest drink and that it is the third most popular beverage after water and tea. The fact that beer is the most extensively used alcoholic beverage on the planet should come as no surprise. That is common knowledge.  In this article we are going to discuss about 9 of the most expensive beers in the world.
Beer may be found almost anywhere. On a hot summer day, it's affordable to most people and runs rapidly down a thirsty throat. If you are a beer lover this is the right article for you. Because practically any cereal containing particular sugars can spontaneously ferment due to wild yeasts in the air, it's plausible that beer-like beverages originated independently over the world shortly after a tribe or culture domesticated cereal. 
Beer was manufactured as far back as 7,000 years ago in what is now Iran, according to chemical studies on ancient clay jars. This is a topic that many people are interested in learning more about. Beer. While it's a common misconception that only champagne or wine are exceptional enough to warrant a high price tag, this isn't totally true. Beer is also available on this high-end market.
However, the world's finest beers aren't just available to the general public. That's because a good beer is more than just a fun night out with friends. It's a whole different game that necessitates a different kind of… pocket. One that can withstand a lot more. So we have curated a list of the 9 of the most expensive beers in the world.
Check out our list of the 9 most expensive beers in the world:
1. The Lost Abbey Cable Car Kriek – US$923 for 750ml
The American wild ale, which was first released in 2011, is no longer manufactured by the brewery, making it one among the world's rarest brews. The Lost Abbey Cable Car Kriek is a sparkling wild lager with sour cherry, grape, and plum flavors. 
It's so rare that there were only three sites where it could be enjoyed at the time of its release, and the beer had a no-carry-out policy.
2. BrewDog The End of History (Belgian Blond Ale) – US$ 765 for 650ml
BrewDog's limited-edition beer is one of the company's signature high-ABV beers. The End of History is so strong, at 55 percent, that the manufacturers advised consuming it in moderate amounts. That isn't the only drawback to consider. BrewDog is an independent brewery with a reputation for pushing the limits of beer. It isn't for the faint of heart. It is also one of the most expensive beers in this world.
To begin with, each bottle is handcrafted from genuine animals that died of natural causes before being repurposed by a taxidermist in Doncaster. This means that with creatures like dead stoats, squirrels, and a hare, no two bottles are alike. With a total production run of only 12 bottles, the Belgian brew is blended with nettles and juniper berries from the Scottish highlands.
3. Carlsberg Jacobsen Vintage No.1 – US$400 for 375ml
This limited-edition beer from Carlsberg, a prominent Danish brewery, follows the trend of limited-edition beers. Because of the intensity and complexity obtained by excellent grade caramel and hops, this beer is classified as a barleywine.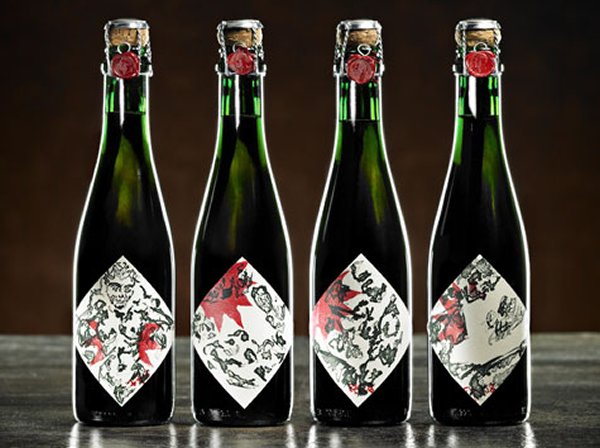 It's made by aging it for six months in Swedish and French oak barrels before being distributed in 600 bottles. It's even more difficult to find because it's only available in Denmark.
4. Schorschbock 57 – US $275 for 330ml
Is this even a beer at 57 percent alcohol by volume? Yes, it is correct. The website of the German brewery makes it plain (in German, of course) that this is "the world's strongest beer." 
This eisbock-style beer was created as part of a collaboration with BrewDog, resulting in a very limited-edition release (fewer than 40 bottles) that's best sipped by the ounce rather than in a pint glass. If you can still get one, expect to pay a very high price. It is one of the most expensive beers in the world.
5. Sam Adams Utopias – US$ 240 per bottle
Sam Adams is best known for its easy-to-drink, affordable, and fairly ubiquitous Boston lager, but the brewery has also issued pricey limited-edition barrel-aged beers in the last decade, with the most recent release costing almost $210 per 25.4-ounce bottle. According to the brand, Utopias is a blend of batches of beer that have been aged for up to 24 years in a variety of barrel types, including aquavit and moscat in the most recent release. 
The ABV is 28 percent, which is high enough to make it illegal in some places. Expect a sticky, almost syrupy viscosity and deep malty flavors in every sip, similar to that of a brandy rather than a beer.
6. 3 Floyds Dark Lord – US $150 to $200 for 3 Bottles
3 Floyds is an Indiana brewery that makes a number of barrel-aged beers with unusual names including Robert the Bruce and Bully Guppy. But one stands out in particular. You'll have to visit the brewery's annual Dark Lord Day and suffer hours of hard metal and beer drinking to get your hands on a bottle of Dark Lord. 
If you're interested, expect to pay $150 to $200 for three bottles of this Russian-style imperial stout, as well as one or two vintage releases and a tote bag. 
7. The Bruery Papier – US$100 for 750ml
This delicious drink is no longer available, but it earned a reputation for itself as The Bruery's first anniversary ale, with complex flavors of dark cherry, vanilla, wood, and burned sugar. With the use of Belgian yeast strain, it is loosely brewed in the English-style Old Ale tradition. 
The brewers even believe that sharing or cellaring the beer until the proper occasion arrives is the best way to appreciate it.
8. Sapporo Space Barley – US$ 110 for a pack of 6
Sapporo released a beer in 2009 that was created with barley that had spent five months on the International Space Station's Zvezda Service Module. The goal of this experiment, according to Sapporo, was to investigate "the aim of obtaining self-sufficiency in food in the space environment."
The beer was only available in Japan in a limited run of 250 cases, each selling for 10,000 yen (about $100), with all earnings going to charity. There are probably still some unopened bottles floating around out there someplace, but if you find one, expect to pay a high price.
9. Floyd's Barrel-Aged Dark Lord de Muerte – US$50 for 650ml
This Russian imperial stout is aged in bourbon barrels with ancho and guajillo peppers and contains Zimmer-Design artwork on the label. The body is thick and viscous, with aromas of carrots and peas that are intriguing.
Meanwhile, the flavors are described as having an earthy maple sweetness with waves of pepper heat and various fruits.
Some of the most expensive beers in the world are mentioned above. We hope you enjoyed this article. What do you think about buying one of these expensive beers? Please leave your feedback in the comment section below. Also, let us know about your favorite beer.
Also Checkout: 10 Most Expensive Spices in the World