A nice perfume is a fashion statement as well as a reflection of your personality.
Perfumes are often expensive, with high-end ones costing hundreds of dollars each bottle. Let's take a look at these most expensive perfumes.
The cost of a perfume is determined by a number of elements, including the quality of the raw materials used to manufacture it, the brand that promotes it, expensive decorations such as platinum/diamond studded bottles, and limited edition stock, among others. Scent is often thought to be one of our strongest senses, and a great perfume will create a dramatic statement in people's minds that will be difficult to forget.
The fundamental motivation for humans to begin wearing fragrances was to avoid unpleasant body smells and to smell good. However, the use of perfumes has evolved through time, from just providing aromas to becoming linked with refinement.
We've Gathered a list of 5 Most Expensive Perfumes in the World – 
1. Shumukh
Price- $1.29 Million/Ounce 
Shumukh is renowned for having the most diamonds placed on a perfume bottle and the tallest remote-controlled fragrance spray product in the Guinness World Records.
The Armani Ballroom of the Burj Khalifa served as the venue for the debut in Dubai. Asghar Adam Ali, the head of the Nabeel Perfumes organisation and a notable master perfumer, created it.
Shumukh contains Indian agarwood, sandalwood, musk, Turkish rose, and a variety of additional components that the firm does not reveal to the public.
On human skin, its aroma lasts for more than 12 hours, and on fabric, it lasts for roughly 30 days.
2. DKNY Golden Delicious
Price- $1 Million/Ounce
DKNY, a part of the LVMH group, introduced this fragrance in 2011 and created a stir by charging $1 million for it, making it the most expensive fragrance in the world at the time.
DKNY, a well-known fashion designer, collaborated with Martin Katz, a well-known jewellery designer, to design and manufacture the most beautiful and costly perfume ever.
There are 2,909 precious stones in the bottle, including 183 yellow sapphires, 2,700 white diamonds, a 7.18-carat oval Cabochon sapphire from Sri Lanka, 15 striking pink diamonds from Australia, 4 rose-cut diamonds, a 1.6-carat turquoise Paraiba tourmaline from Brazil, a 3.07-carat oval-cut ruby, a 4.03-carat pear shaped rose-cut diamond, and a 2.43-carat flawless.
The stones were set by hand for 1,500 hours to simulate the New York City skyline. The perfume's proceeds were donated to the Action Against Hunger charity organisation after it was sold.
3. Clive Christian No.1 Imperial Majesty
Price- $12,722/Ounce
As the maker of the world's third most expensive perfume, Clive Christian features twice on this list. Roja Dove, a well-known British perfumer, created Clive Christian No. 1 Imperial Majesty. With rose oil, jasmine, and Tahitian vanilla, this opulent scent has a delightful fragrant floral combination.
The Imperial Majesty perfume by Clive Christian is housed in a Baccarat crystal bottle with a 5-carat white diamond set in an 18-carat gold collar. And, much to your surprise, the crystals we're discussing are genuine hand-crafted crystals.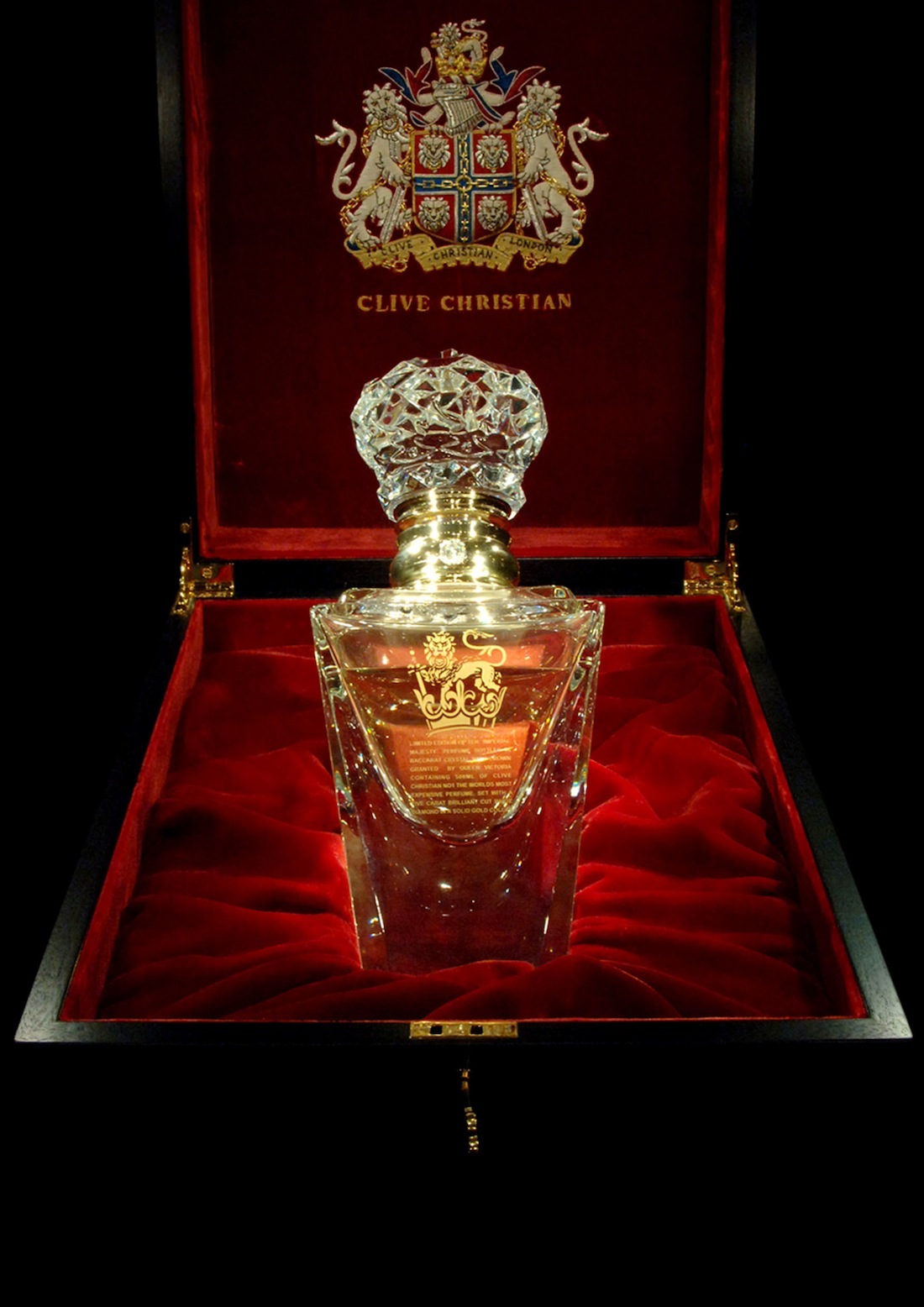 No. 1 Clive Christian Imperial Majesty has to be one of the greatest scents out there, and Christian has referred to it as "his heart's perfume."
4. Baccarat Les Larmes Sacree de Thebes
Price- $6,800/Ounce  
Baccarat, a renowned crystal manufacturer for over three centuries, entered the fragrance industry in the 1990s. With just three bottles ever produced, the product was one of the world's most costly fragrances.
This is one of the oldest perfume firms on this list, having been formed in 1764.
It's one of three limited-edition perfumes, and it's frankincense and myrrh-scented. It comes in Baccarat's newly designed pyramid-shaped crystal bottle.
5. Chanel Grand Extrait
Price- $4200/Ounce
The Chanel Grand Extrait N°5 is a luxurious limited-edition perfume that gives the smell in its purest form, now and forever. Thanks to its abstract smell, which develops like a bouquet of abstract flowers, N°5 Perfume is the essence of femininity.
The perfume is housed in a magnificent faceted glass bottle that has been made to look like a massive diamond and is sealed with a baudruchage to preserve the famous scent's purity.
In 1921, Coco Chanel and perfumer Ernest Beaux teamed together to create high-end fragrances.